An Omelet Without Eggs? Vegetarian Omelette ?Confused ?? . Frankly, I was when i heard about them very 1st time.I was introduced to this dish after marriage through my DH.One day  he asked me – " Can you make tomato omelette sometime? " .We being hard core vegetarians, was so surprised to hear omelet from his mouth.Egg is a big no no for us except cakes.Later he explained me that although they are called an omelet, there are no eggs involved in the dish.I had never heard of a 'besan dosa like thing' until then.Then i browsed few sites and learnt them.Now over the years,this vegan omelette has been a regular on my menu ,it is so easy to put together and the end result would be always tasty….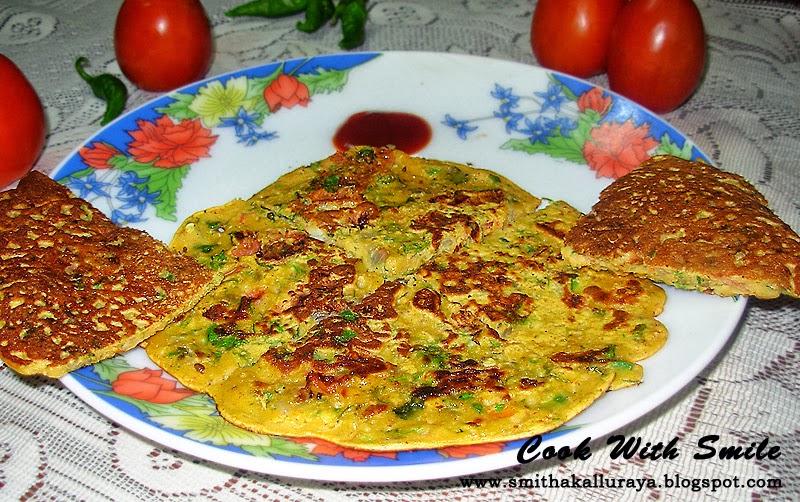 Most of the people from and around Maharashtra might know this simple and tasty vegetarian omelet.Basically they are made with gram flour,tomatoes,onions and indian herbs & spices.Simple and easy to make, it can be put together in less than 15 mins and is a good rescue for bachelor cooking or to serve at-the-drop-of-hat guests or for busy morning breakfasts.Its very filling and protein rich.Another thing I love about this omelette is they extremely versatile.You can change the veggies you add to it.On with the recipe… Hope you enjoy Eggless tomato omelette as much as I did …
VEGETARIAN TOMATO OMELETTE
Ingredients
1

cup

Gram Flour Besan

1 ⁄ 4

cups

Rice flour

2

medium size ,

tomato

finely chopped

1

medium size ,

onion

finely chopped

1

medium size ,

capsicum

finely chopped

2 - 3

Green Chilli

, finely chopped

coriander / cilantro

few strings leaves,finely chopped

¼

tsp

Red chilli powder

1

tsp

Coriander powder

1

tsp

cumin powder

1/2

tsp

ajwain seeds / oma / carom

( optional )

1

tsp

Kasoori methi

(optional)

as required

Salt

as required

Oil

for cooking the omelette
Instructions
Preparing the batter:

Mix all the ingredients together, except oil in a bowl.Now slowly add water,little by little at a time. Mix well so that there are no lumps in the batter.

The consistency of the batter should be medium ( like a thick milk shake)
Making dosas:
Heat a tawa or non-stick pan. Grease it with few drops of oil or butter.

Pour a ladle of batter at the centre and spread evenly to form almost round pancake. Add some oil drops on the edges & top of the omelette. Cover it with the lid and allow to cook .Cook on medium heat.

When it is cooked and is brown in color on 1 side , flip over and cook the other side.

Cook the tomato omelette till both sides are cooked and the edges crisp.

Serve hot tomato omelettes with some coriander chutney or tomato sauce. You can also place them between 2 toasted bread slices and relish them as sandwich.
Notes
Thanks for reading the post....plz drop your valuable comments.. it really motivates me...Also If you liked this post, I would really love it if you could share it ...Thank you !!
Love ~Smitha