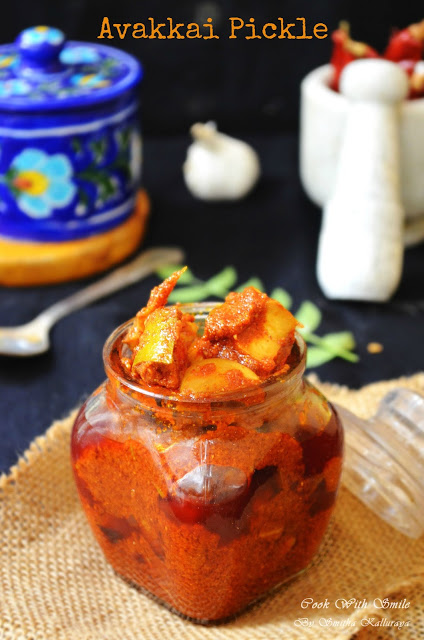 Today i have for you all the famous and very tasty pickle from Andhra .I am sure like me many of you love this pickle to the core. Its very spicy,tangy ,tempting and an absolute fingerlicking one. i am speaking about hot " Andhra special Avakaya / Avakkai Mango Pickle ". Avakkai mango pickle is my favorite since childhood and i love to have it with anything and everything. There was a time when i used to visit Andhra hotels just for this  Avakaya . Since this is the season for green sour raw mango  , try making them at home .After learning this recipe from an Andhra aunty , i have said good bye to the store bought . This homemade avakkai mango pickle not only tastes better than the store bought ones but is also way way healthier than them as it has no preservatives and economical too. The main hero of this pickle is mustard , fresh unrefined gingely oil and of course fresh sour raw mangoes . If you have this ready , making it is just a step away . So are you ready to jot down the recipe … here you go …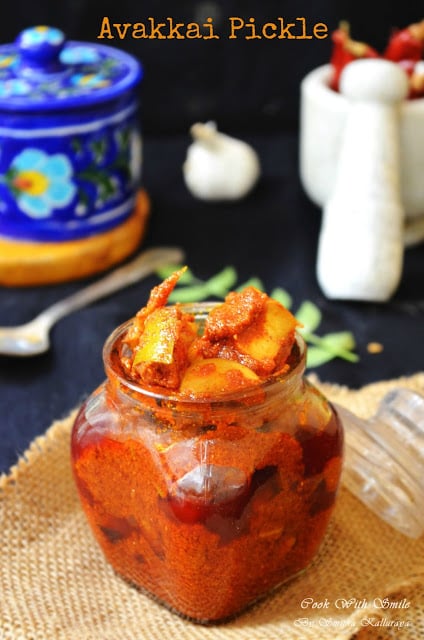 AVAKKAI MANGO PICKLE
Ingredients 
3 - 4

cups

Raw green Mangoes

,

medium size

1

cup

Mustard seeds powder

1

cup

red chili powder

,

(Kashmiri variety or any variety used in pickling)

1

cup

Salt

1 1/4

cups

Gingelly oil

2

tsps

Methi seeds

Few cloves

Garlic

,

(optional)

1

tbsp

Turmeric powder
Instructions 
Wash and wipe mango nicely with a cotton cloth . Use a very sharp knife and cut into bite sized pieces  retaining the hard shell of the seed intact .There will be a thin layer attached to the hard shell .Using a sharp knife Scrub and peel off .

Sun dry mustard seeds and fenugreek seeds for 3-4 hours to make them little crisp.  dry roast them for few seconds .If you don't get sunlight

Powder them .

In a big mixing bowl , add salt , chill powder , mustard - fenugreek powder , garlic.

Mix everything well. Our pickle masala is ready to use .

To that add diced mangoes .Mix nicely .

Take a big cleaned sterilized glass bottles / pickle containers. Add little masala coated mango into the jar . Pour some oil . Again add some more pieces and layer with oil . Do this till all your your mango pieces are over . Finally pour the left over spice and oil into the jar.Cover the lid and keep it aside for 2-3 days .

After 2-3 days , check if oil is floating on the jar .Mix it nicely with a clean spoon and taste . It should be little salty at this stage as mangoes are yet to take in . So if required add 1-2 tsp of salt. let it sit in a clean dry place .

After a week , you can start using the yummy avakai pickle.Store this in a clean dry place and use clean dry spoon. After a month you can transfer it a jar and keep in the refrigerator for later use. Enjoy !!
Notes
If the inner shell is intact this will increase the shelf life of pickle .
Adding garlic is purely optional .
Initially the pickle should be salty , spicy . As days goes by , it will reduce .
Always transfer a small portion of pickle into a small jar and use a clean and dry spoon.
Dont omit gingely oil . This is the thing that gives a unique tempting taste to the pickle. Also use it raw . No heating .