Banana Flower Chutney Recipe | How to do Karnataka style Banana flower chutney Recipe | Bale hoo chutney recipe with step by step photo | Banana blossom Chutney Recipe
Today i have for you all a very tasty and interesting recipe from Banana flower " Banana flower Chutney / Bale hoovina Chutney " . This is age old heirloom recipe from Udupi region which I think my mom learnt from her MIL who in turn learnt from her daughters MIL .. Yes , that's how family recipes gets passed from one hand to another . Banana flower chutney topped with ghee and hot rice , tastes just yummm . They are just perfect to add that zing to any bland food. If you are looking for a spicy addition or accompaniment to a meal then this is it. It is quiet simple to make and the best part is that you can store it in refrigerator for minimum 1 month . Those who are short of time, these chutneys are saviors!
Recently i had been to native and was super excited to see organic home grown Banana flower in my relative's backyard . After female banana flowers get pollinated , they form bananas . After banana's are produced , male flower still remains at the tip of the bunch which is what used in cooking .It is loaded with fibre, anti-oxidants, iron, potassium, calcium, vitamins and all other minerals.In kannada it's known as bale moothi or poombey .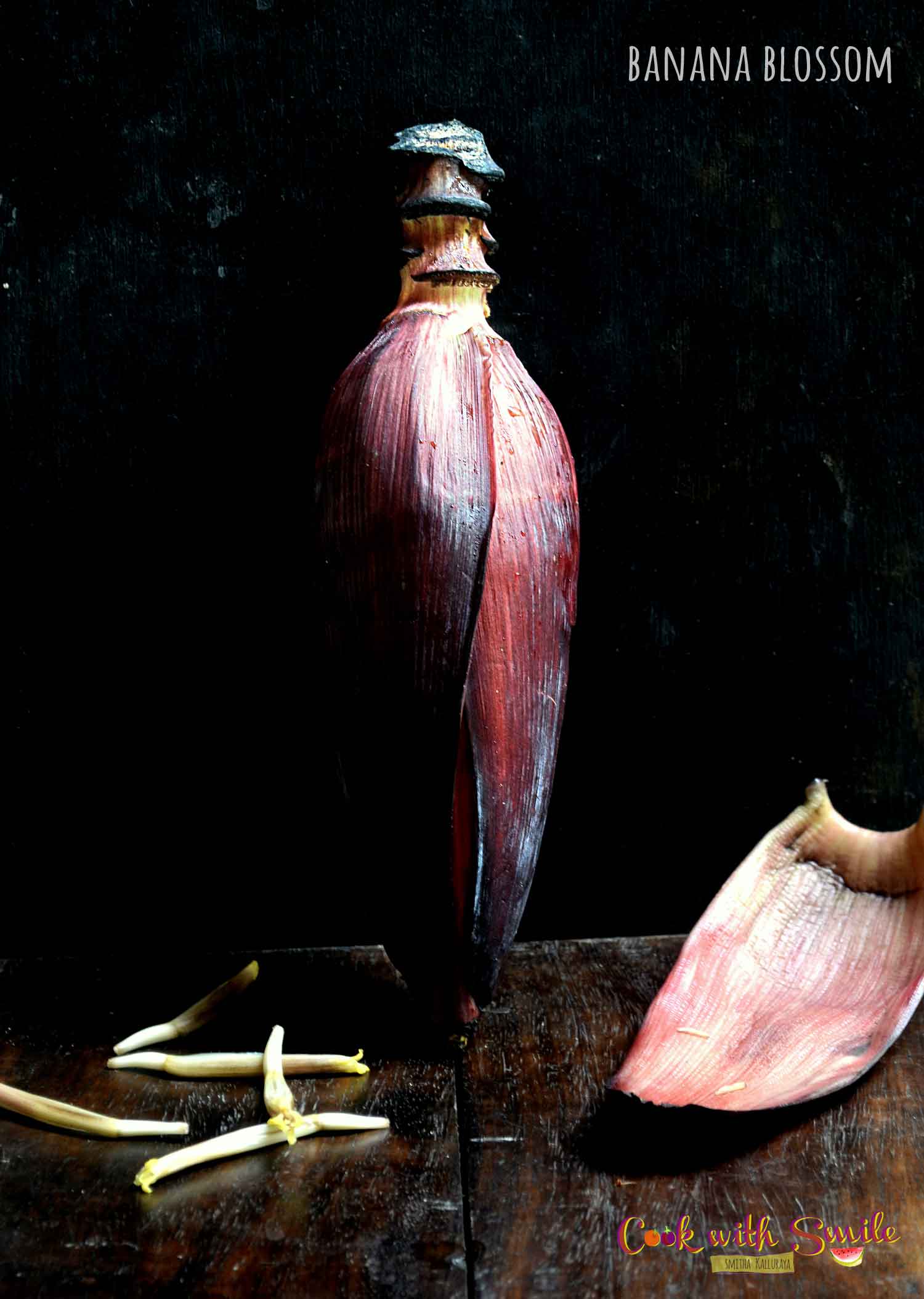 Though i get good banana flower always in Bangalore , nothing can beat organic and homegrown ones . While buying , always remember  to pick that's firm, fresh , tightly packed and bright purple in color . The cleaning part of banana blossom is little boring but the benefits that we get makes the time spent worth . We all know how fibre rich and nutritious banana flower are . So when i brought these homegrown banana flower's ,various dishes started running in my mind to cook and share with you all lovely peoples . I have shared banana flower usili and  for today it's Banana flower chutney . It's known as poombey chutney in Udupi region . This chutney is given everyday to a new nursing mother as it increases milk supply and helps in healing the wounds quicker . Everyday for lunch i used to relish it with hot rice topped with fresh homemade ghee .You too try this delicious , healthy , fibre rich Banana Flower chutney .. i am sure you will like it .. and yes anybody can eat it 🙂
Here is a video

You can also check banana stem raita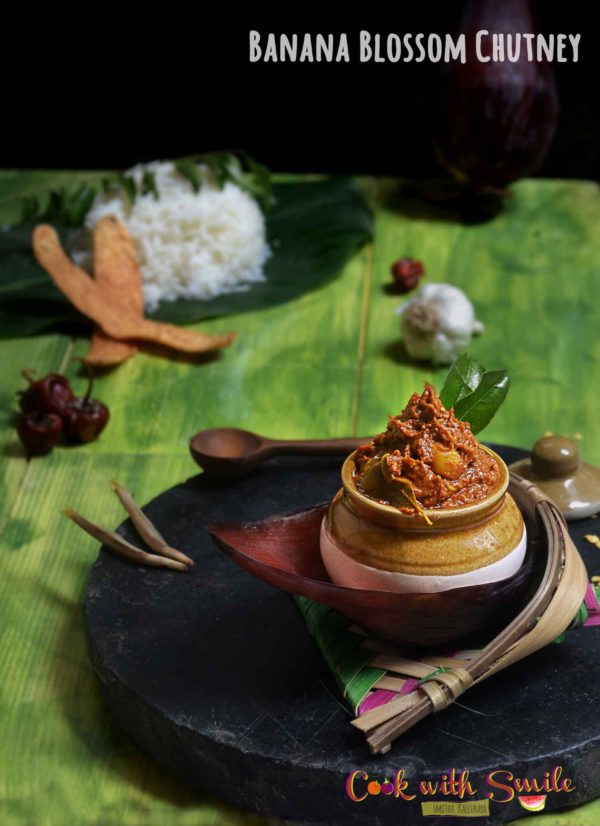 | | |
| --- | --- |
| | |
Wash fresh banana flower. Discard few outermost petals , which are very thick and little aged ( around 3-4 layers ).They will have slight bitterness . So better not to use . The white flowers , if they are grown , remove the stamen . The tender ones you can use as such . refer video to clean and chop

Finely chop banana flower from tip and drop them in a bowl of water . Keep it so for 10 mins . Later discard water and chopped banana flower is ready to use . refer video to clean and chop

Transfer chopped banana flower,coriander seeds,cumin seeds,pepper,red chillies,salt,tamarind and haldi. Add water and cook on medium flame for about 2 whistles .

After it gets cooled, transfer the mixture to a mixer. Grind it smooth . Adjust salt and tamarind level if required .

In a kadai ,prepare the tempering.Heat a tablespoon of oil .Add the mustard seeds .When mustard seed starts popping, add garlic pieces and saute till they turn golden brown.Add curry leaves .

Next transfer the ground chutney mixture to the kadai , little jaggery and stir well. Cook on medium flame for 4-5 mins stirring in between till the chutney gets desired consistency.The final little bit of sauteing and roasting helps in increasing the shelf life of the chutney.

Done , our Banana flower chutney is now ready to serve .....
You can serve this chutney with anything like rice,chapathi,dosa, idli..... I love eating this with steaming hot rice & ghee.Store in airtight container in a fridge.They remain fresh for 1 month.
The same recipe you can follow to do curry leaves chutney . Replace banana flower with curry leaves and add little coconut while grinding .
In case you dont like garlic flavor, you can replace it with Hing for flavor.