Cabbage Pakoda Recipe with Step by Step photos | How to do Crispy Cabbabe Pakoda 
Who doesn't love pakoda? There are so many different types of pakoda one can make and today it's time for " Cabbage Pakoda / Crispy Cabbage Pakora ". An easy and tasty snack made from cabbage that anyone would love it.
There are certain relatives in my family who don't eat onion. Whenever such type of guests come .. this Cabbage pakoda, Bhindi  pakoda , Mirchi bajji etc come to my rescue. Within 10-15 mins, a tasty snack will be ready.
Method of making Cabbage pakoda is same as Onion Pakoda shared earlier. Even if one doesn't like cabbage, people will surely like it this way…one wouldn't even know cabbage is used in the pakoda. The end result is equally delicious like onion pakoda and hardly people can make out that it's made from Cabbage and not Onion.
Few tips to follow while making Cabbage Pakoda you need to follow :
Cabbage has to be sliced thinly and not thickly. If the slices are thick, then while frying the besan gets cooked but cabbage slices remain half cooked.
Add very less or no water to the pakoda dough. This will make pakoda very crispy and also the taste gets enhanced.
Mixing hot oil gives crispier pakoras and also prevents sogginess.
The temperature of the oil has to be correct while frying. The oil should not be too hot or cold. If it is hot, then the outside of the pakoras will get fried but the inside will be undercooked. If it is not hot, then the onion pakoras will absorb more oil.
To check the readiness of the oil, drop a small ball of dough (say around the size of the lemon seed). If the dough ball raises above the oil in a couple of seconds, the oil is hot enough to drop in the pakodas.
Don't overcrowd pakodas while dropping in hot oil. This will make them soft as well absorb more oil.
Fry in medium-low flame only.
Do try this Cabbage Pakoda Recipe and trust me you'll keep on munching one by one…… here you go..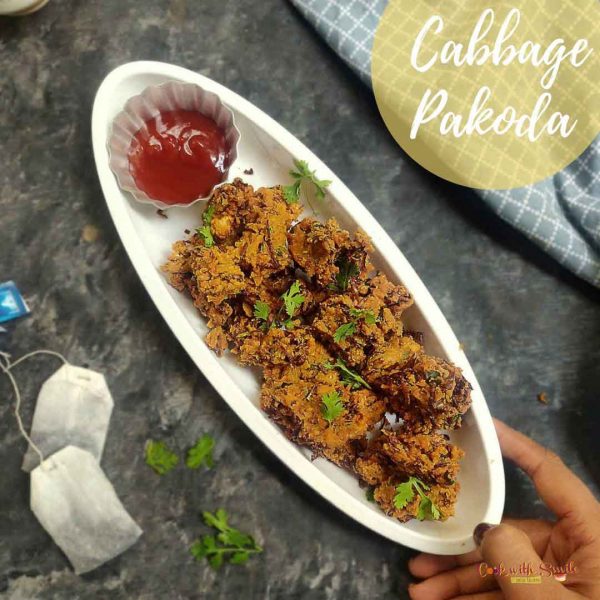 | | |
| --- | --- |
| | |
Using a mandolin slicer / knife, shred cabbage thinly.

In a mixing bowl, take finely shred Cabbage, chopped Green chilli, Curry leaves, Coriander leaves, salt, Red Chilli powder, Haldi & Dhania powder.

Nicely mix everything ... crushing a bit with your hands so that cabbage leaves a bit of moisture. Keep it aside for 10 mins.

Once Cabbage is nicely mixed, add besan , rice flour ... mix.

Add hot oil to it. You should see bubbles when you pour hot oil. Combine well.

Moisture from cabbage is sufficient to bind the dough together.So extra water is not required. But if you feel the dough is too dry, sprinkle just a few drops of water. Less the water, crispier pakoda is the outcome.

Heat oil in a kadai / frypan. When it's hot, take small pieces of pakoda dough and drop into hot oil in batches. Stir and turn in between. Keep the flame to medium while dropping pakodas to oil and later reduce to low-medium.

Deep fry till they are golden in colour and becomes crispy. Drain it on a kitchen tissue.

That's it, crispy crunchy Cabbage pakodas are ready to serve. Enjoy it as such / with green chutney/tomato ketchup.