Today i have for you all a Chinese starter Crispy Corn recipe that's probably everyone's favorite . One of the most hot selling appetizers in Barbeque nation and many restaurants alike … Crispy Corn makes an ideal starter for parties, get together or as evening snack for kids.Making BBQ Nation style Crispy corn recipe at home is quiet easy but yes little time consuming but the end result is worth .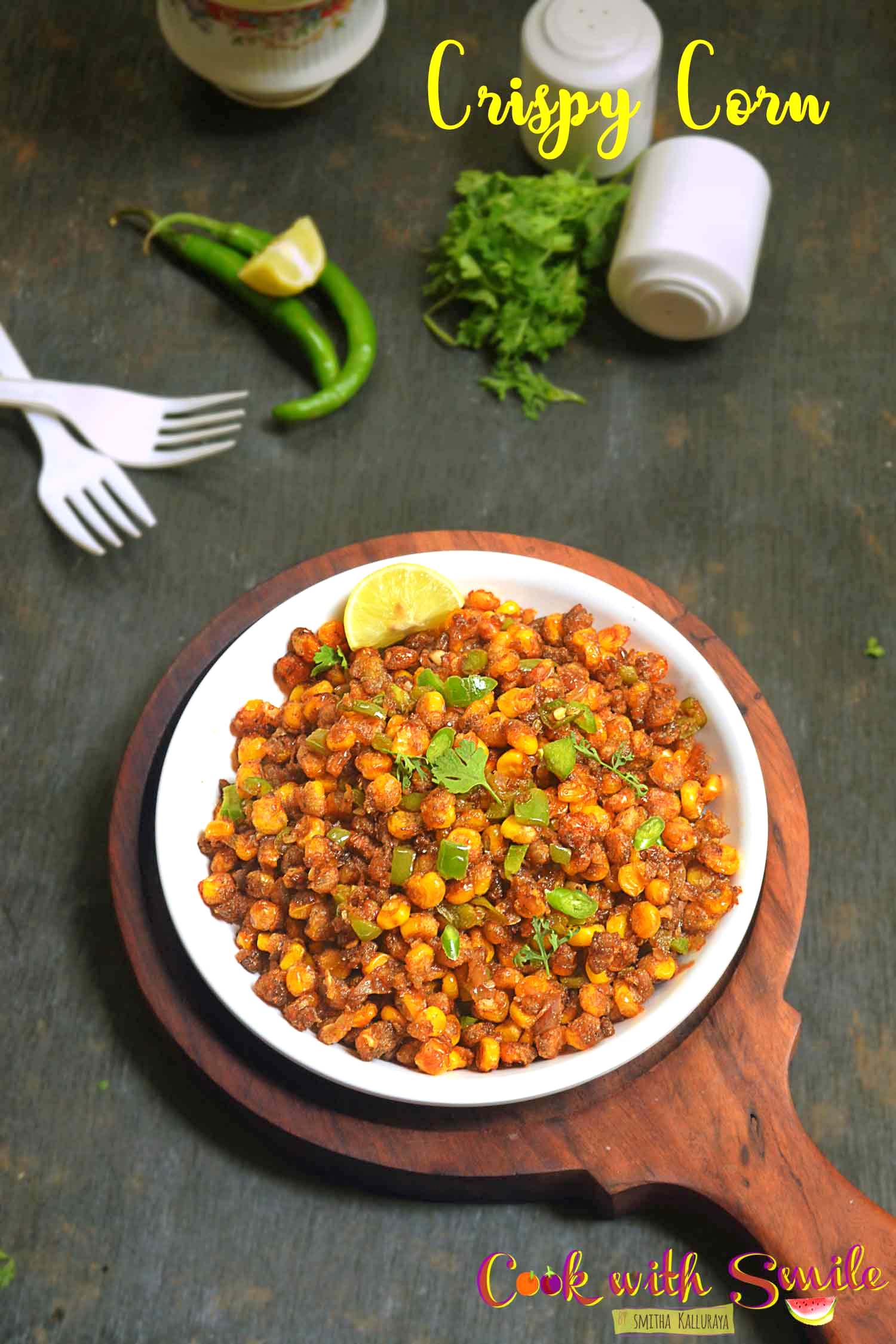 My kids love corn !! As you all know I have shared many corn-based recipes here like cup o corn , corn canapes , corn cutlet etc . Today I have another favourite snack  Crispy Corn … which is absolutely lip-smacking and irresistible . Agree its deep-fried and high cal .. but once in a while indulgence is Ok right?There are two ways i make this crispy corn. Method 1 .. after deep frying I saute and toss  it in onion , capsicum, tomato sauce , chilli sauce vinegar etc.Method 2 : After deep frying , just toss in a spice mix of ( chat masala + Cumin powder + salt + chilli powder + lemon + onion + green chilli ) . Whichever way .. you will definitely love it.  Next time if you have to impress anyone with your cooking, serve this snack and I'm sure they would tell  – " Wow !! You did it at home ..just can't believe …Its so Yummy …" So lets begin step by step recipe of  crispy corn recipe….Here You Go … But remember to BE VERY CAREFUL WHILE FRYING  CORN , AS THEY  SPLUTTER .. SO TAKE CARE …
| | |
| --- | --- |
| | |
Boil around 2-3 cups of water in a sauce pan. Add corn kernels into it and cook for 2 to 3 mins.Turn off flame and drain water completely. If you are using tinned corn ..Drain the water from the tin . No need to cook .

Put together the corn kernels, maida, corn flour, rice flour, pepper powder and salt in a big mixing bowl.

Mix well such that corn is coated completely with flour. In case flour is not sticking , add 1-2 tbsp water and mix gently .The corns should be separate from each other yet and well coated with flour .

Heat enough oil in a kadai to deep fry the corn. Once the oil is hot, take corn and scatter into the hot oil. Stay away from oil as it scatters and splashes. To prevent this , cover the pan while frying . Once the corn is crisp and golden, transfer it onto a tissue to absorb excess oil.

Heat a tsp of oil in a pan . Add chopped onion , garlic and green chilies and stir fry for few seconds.

Add chopped capsicum and saute for few seconds . Add red chilli sauce , tomato sauce ,soy sauce ,vinegar ,pinch of pepper powder and mix.

Now add fried corn and mix quickly .

Serve the Crispy Fried Corn immediately to enjoy crispiest texture.
Method 2 for making crispy corn : In a mixing bowl add salt, cumin pwd, red chilli pwd and chat masala pwd .Mix . Add Fried corn , finely chopped onion , green chilli , coriander leaves . Squeeze lime and quickly toss and enjoy .
Don't keep the oil temperature too high .. else corn will splutter as soon as you drop it into oil .
For safety .. its better to cover the pan with a lid while deep frying else it might jump everywhere .