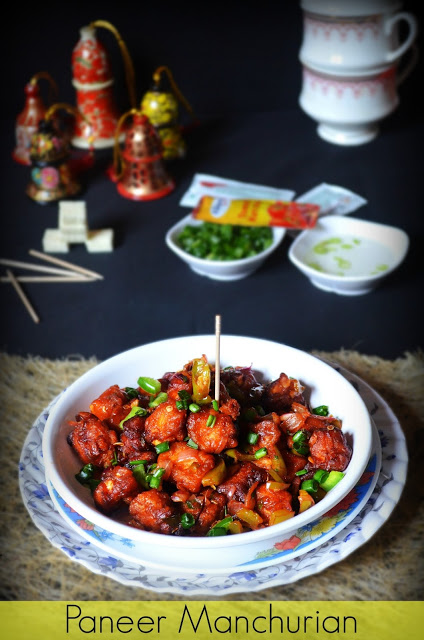 I'm sure most of us love Indo Chinese… that too especially in this rainy gloomy weather. So for all those Chinese food lovers,  sharing today one of the most famous dishes from the cuisine which i am sure needs no intro — Yes that's " Paneer Manchurian / Chilli paneer ". Making this restaurant-style Paneer Manchurian at home is so simple. Do try for yourself. Make it dry and serve as starter or make it saucy and serve as side dish with fried rice or relish as such . The choice is all yours.. whichever way i'm damn sure you are just gonna fall for it !!! It's spicy , hot , delicious …. in short just LIPSMACKING !!! Yumm…. Aah i'm now craving for it badly…
You can also check
Print Recipe
PANEER MANCHURIAN
Yum
Indo Chinese manchurian made from Paneer / Indian Cottage cheese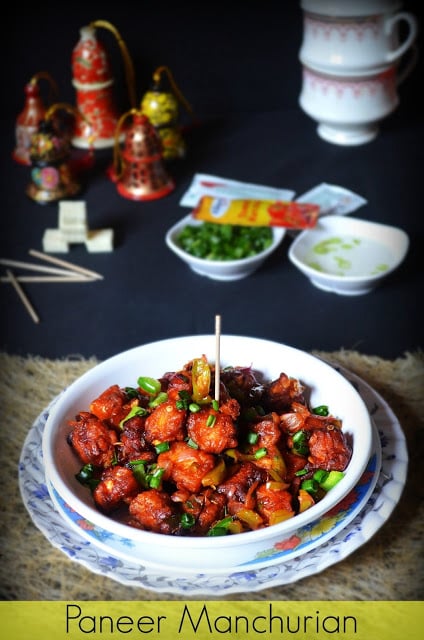 For the Manchurian Sauce:
| | |
| --- | --- |
| For the Manchurian Sauce: | |
Cube paneer and add all the paneer cubes to hot water .Let it remain until ready to use. This gives paneer a soft melt-in-mouth texture.When ready to use drain out hot water and use.

Mix all ingredients except oil mentioned under "batter " with little water and make a medium consistency batter (like dosa batter).

Heat oil in a frying pan or kadai.

When oil is hot , dip each paneer cubes into the batter . Make sure that each part is quoted well.

Deep fry on medium flame till they are golden brown and crisp.Take them out from frying pan and remove excess oil.

Repeat the process with the remaining Paneer cubes .You might require 2-3 batches to fry the above quantity paneer caubes. So have some patience and dont overload the frying pan to finish it off soon. By doing so , the end result will not be crispy but soggy.

After all the cubes have been fried, proceed to make manchurian sauce.
Preparing Manchurian Sauce 
Whisk cornflour in 1/4 cup of water till it dissolves and no lumps are formed.Keep aside.

Heat oil in a large wok. When the oil is piping hot, throw in garlic, green chilli and onion. Saute for 1 -2 mins till lightly brown. Then add capsicum. Saute for another 1 -2 mins. Capsicum should retain its crunchiness. The flame should be high in this process .

Simmer the flame. Add all the sauces 1 by 1. Add salt ,red chilli powder and cornflour water mixture. Mix well.If you feel, you can add few more tbsps of water.Cook for 2-3 minutes,let it boil so that sauce consistency is obtained.Manchurian sauce is ready.
Preparing Paneer Manchurian
Keep the flame on high .Add the fried paneer pieces to the manchurian gravy ,combine and toss them on a high flame for 1-2 minutes.Add chopped spring onions.Toss once more .Switch off the flame.

Serve immediately and enjoyy piping hot crispy spicy Paneer Manchurian.
If you want dry paneer manchurian , then omit the step of adding cornflour mixed in water. Also dont add any extra water. Just toss the fried paneer pcs in the combined mix of sauces.
if you want to cut the calorie , instead of deep frying paneer cubes , you can shallow fry them on pan