Chinese food has no doubt caught up the craze in India . Be it Manchurian , Momos , Fried rice ,Spring rolls,Noodles and the list goes on.They are actually not authentic Chinese dish but a creation inspired from Chinese cooking, seasoned to suit Indian taste palate.And today's post "Veg Hakka noodles", also called "Chowmein " is one of the famous Indo – Chinese dish that you will find being served from small food stalls on Indian streets to famous big restaurants.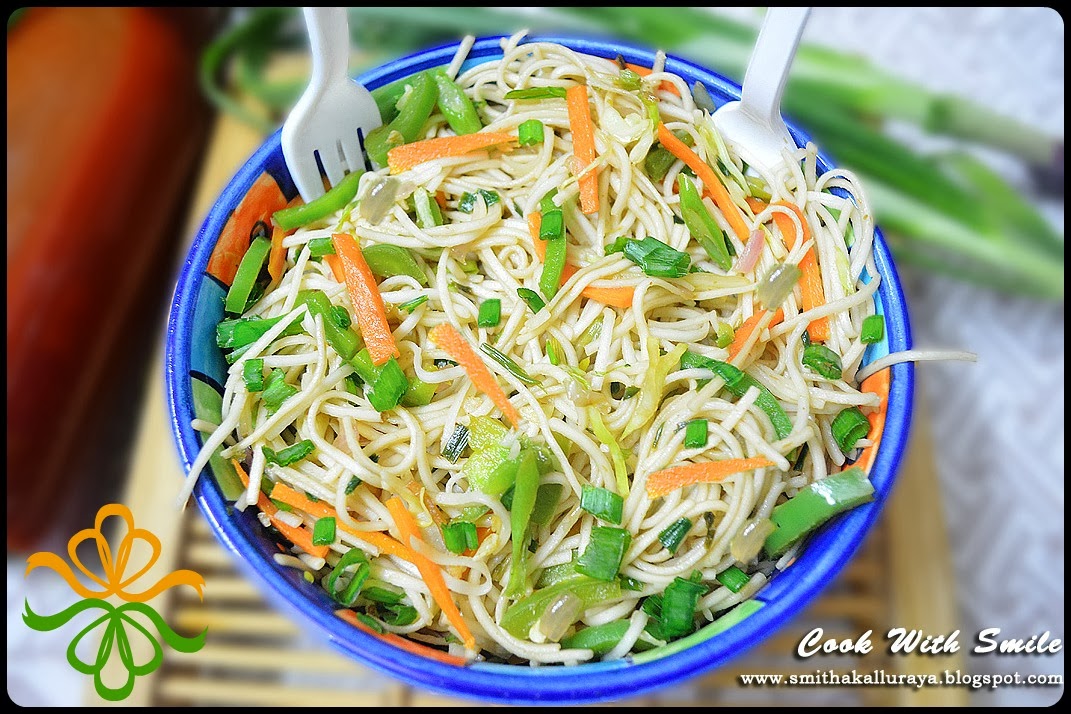 The most important thing to remember before starting Hakka Noodles is, whole process is done under high flame and continuous tossing is required.High flame gives a nice smoky flavor to this dish.Also dont overcook the veggies.They should be handled such that their raw smell goes and crunchiness is retained.Another most important thing to keep in mind while making these noodles is uniform cutting of veggies into thin strips, which is the only time consuming part.But cant help, veggies are one of the stars of Hakka Noodles adding color,texture and crunchiness.
Actually once the chopped veggies are ready,making Hakka noodles at home is no big deal.In fact you can make it more healthier and tastier than restaurant by minimizing the wax coating of noodles by running under cold water,limiting the usage of oil,cutting MSG and topping with loads of veggies.So ready to recreate Veg Hakka noodles right in your kitchen ? Here goes the recipe…
Check Out the Video recipe here :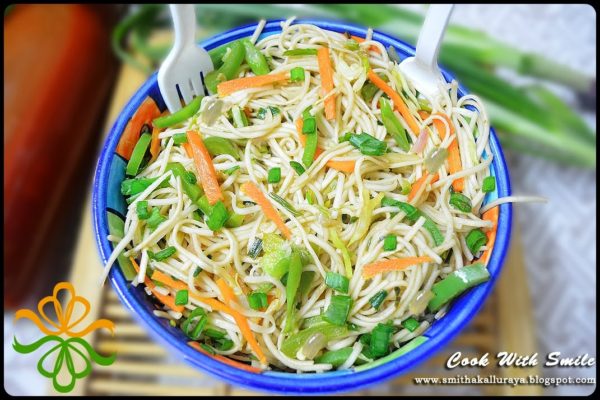 | | |
| --- | --- |
| | |
Cook the noodles in plenty of salted water as per package instructions.Take care not to over cook.

Drain the noodles,rinse under cold water, drain water completely and toss with a tsp of oil.Set aside to cool .Smearing a bit of oil helps noodles strand stay separate.

Finely chop onion,garlic and greens of spring onion.Cut carrot,beans,cabbage and capsicum to thin strips.

Now lets proceed with tossing our veggies.In a wok , heat up the oil.Add garlic,green chillies,onion & white of spring onion.Saute on high flame for few seconds till onion turns translucent.

Add the carrots and beans.Stir fry for abt a minute.Then add cabbage and capsicum.Sprinkle little salt.Stir fry for few more seconds.All the veggies should retain their crunchiness.

Next add all the sauces one by one or just all in one sauce,salt and pepper. Stir fry for 5-10 second.

Add cooked noodles and greens of spring onion.Toss on high flame for few minutes so that noodles are  well coated with all the sauces and are completely heated up.Check the seasoning .Add more if required.

Serve piping hot noodles with tomato ketchup.

Isn't it very easy ?I'm sure next time you crave for these noodles, you l surely not go in search of restaurant..
Always cook noodles until its 3/4 th cooked ie al dante cooked. While tossing in sauces , they l again get cooked a bit. So if you over cook initially , theyl get mushy.
Fry the veggies in high flameas it gives a smoky flavour like in restaurants. It also helps in retaining the crunchiness of the veggies.
Don't cut the amount of oil mentioned above. It s required to keep the noodles from sticking to one another.
You can use Baby corn , mushroom etc too or any other veggie thats handy.
 Also See:
GOBI MANCHURIAN / CAULIFLOWER MANCHURIAN