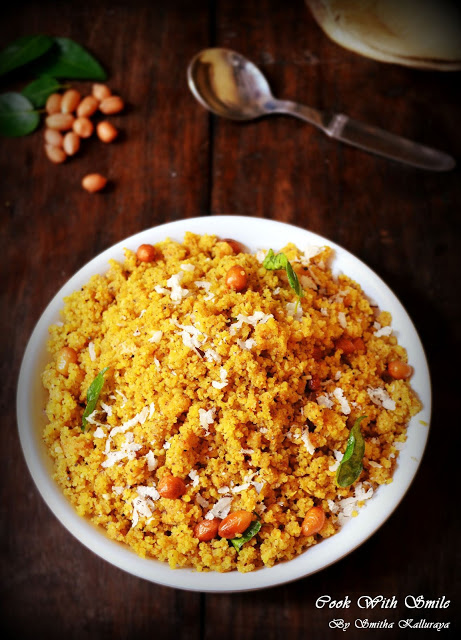 Today's post "Gojjavalakki",is an authentic recipe from Karnataka.,which is simple yet delicious.I often make it whenever i have to cook in a hurry or i have to cook onion less(during festive times especially janmashtami). In Karnataka, many temples offer it to us as prasadam. The ones made in the temple will have a divine taste 🙂
Basically Gojjavalakki is beaten rice soaked in tamarind pulp,spiced with rasam powder,sweetened with jaggery and tempered with dal and groundnut.It is sweet, tangy, spicy and crunchy at the same time. Just pair this with a bowl of yogurt and you will have complete and filling meal ready in minutes. Sharing with you all my mom's recipe that is big on flavors,I just love this…
GOJJAVALAKKI
Ingredients
250

grams

Thick Poha / Beaten Rice / Avalakki

thick variety must

Small lemon size

Tamarind

(soak in little warm water,squeeze and extract juice)

2 - 3

tsps

Jaggery

to taste

Salt
Spl magic masala
1/2

tsp

Blackgram / urad dal

1/2

tsp

Bengal Gram Chana Dal

7 - 8

nos

Pepper

1 - 2

tsp

Black sesame / Til
For Tempering
1

tsp

Mustard

1/2

tsp

Blackgram / urad dal

1/2

tsp

Bengal Gram Chana Dal

Groundnut

- as much as you like

a pinch

Asafoetida/ hing

a pinch

Turmeric

- few

Curry Leaves

Grated dry coconut / kopra

Garnish
Instructions
Coarsely powder the flattened rice in a blender for not more than 30 secs

Coarsely powder the flattened rice in a blender for not more than 30 secs

Take small amounts of beaten rice and coarsely powder it by pulsing in a mixer a couple of times, Make sure you don't powder it finely.It should be like the Rava consistency.

Next,to the coarsely ground poha add tamarind paste,salt, rasam powder, jaggery.Add water and mix well.At this point the poha should be little watery.Keep aside for 15-20 mins.The poha will soak up all the water and would have pluffed up.

Meanwhile, roast by adding few drops of oil the chana dal,urad dal,pepper and sesame seeds till it gives out nice aroma.Cool ,powder and set aside.

Prepare the tempering.Heat oil in a pan .When the oil is hot enough,add mustard seeds,peanuts,urad dal, channa dal,haldi,hing.When they splutter add curry leaves ,switch off and pour the tempering  to poha.Add the dal-pepper-sesame powder to the seasoned poha and mix well.

Add grated dry coconut, mix well.

Serve as such or with curds. Personally, to suit my taste-buds I love to have this with thick curd because of its sweet-sour-spicy flavor.
Notes
NOTE:
Poha must be thick type only.
Before making a coarse powder, you can just make poha a bit crisp as it eases the process. It can be made crisp either by keeping in Sun or dry roasting a bit in gas /oven.
After adding tamrind-rasam powder-salt-jaggery to the coarse poha mix,Taste it.The mixture should taste little strong,there should be a little extra of all ingredients, as poha is yet to absorb the spices.
If you want you can omit ,dal-pepper-sesame powder .But i would recommend you to add it as it gives extra taste.
Thanks for reading the post....plz drop your valuable comments.. it really motivates me...Also If you liked this post, I would really love it if you could share it ...Thank you !!
Love ~Smitha