Yesterday was Varamahalakshmi festival. This festival is celebrated usually in the southern part of India on the Second Friday or the Friday before full moon day – in the month of Shravana (Aug-sept),auspicious month for Hindus.As the name says, on this day Goddess Laksmi is worshiped & it is believed that worshiping her on this day brings wealth,prosperity and a long life to the family.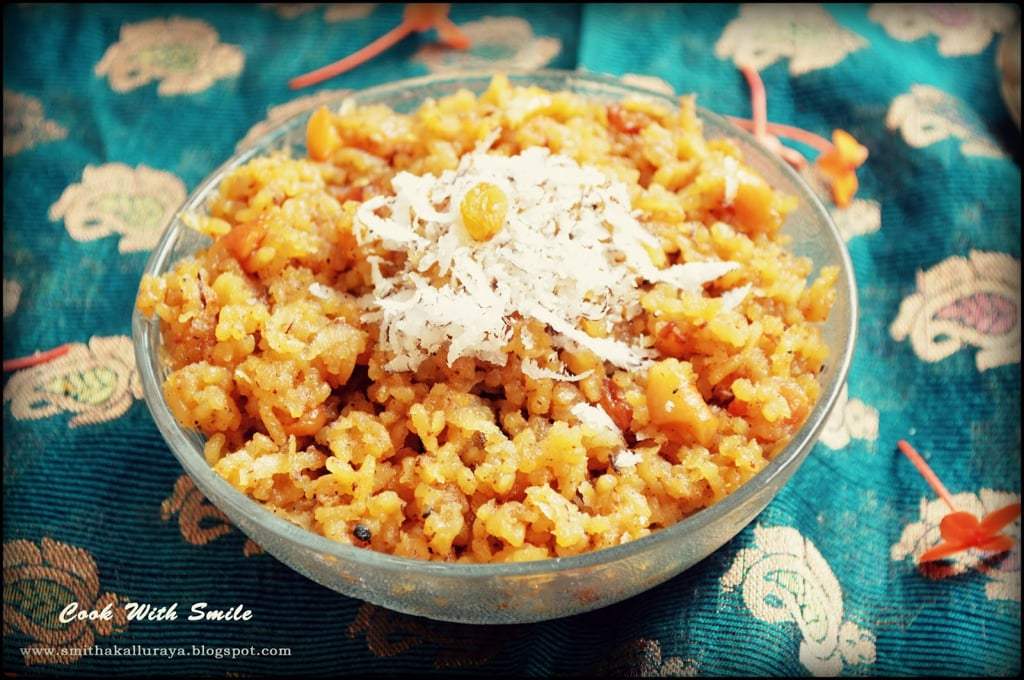 To celebrate this occasion, I prepared a traditional rice dessert "GUDANNA/BELLA DA ANNA". "Gud or Bella" is jaggery in kannada and "Anna" is rice .It is a special naivedyam offered to Goddess. Basically, it is rice sweetened from jaggery and flavoured with cardamom. Sounds simple,right? Yes, it is a very simple & quick dessert and there isn't anything that you can mess up here.Im sure, this dish would turn yummy even when prepared by the newbies. This dish i learned from my mom-in law, who used to prepare it often as it can be prepared in a jiffy..So here goes the recipe: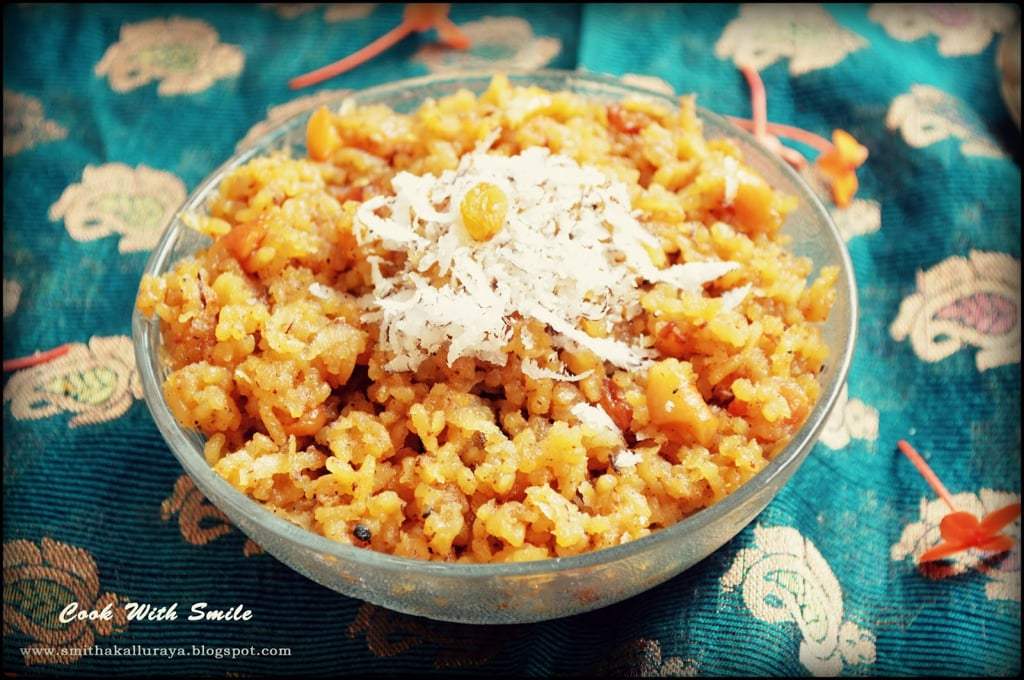 GUDANNA / BELLADA ANNA
Ingredients 
1

big cup

Cooked Rice

,

cooked and cooled

1 1/2

cups

Jaggery

,

-Approx (Depends on your sweet level)

1

cup

Grated dry coconut / kopra

,

( you can vary this measurement )

4

Tbsps

Ghee

6 - 7

pods

cardamom/ elaichi

,

powder

few

Cashews

few

Raisins
Instructions 
In a heavy bottomed vessel/kadai,add a tea spoon of ghee and fry cashews till they change in color. Fry raisins as well in the same pan till they fluff up. Keep it aside

To the same vessel ,add jaggery and little water (Just enough to cover the jaggery). Stir occasionally to melt all the jaggery

When jaggery gets dissolved and plain jaggery syrup is ready, add cooked rice and coconut to it.Mix well so that there are no lumps.

Keep on stirring on low flame, so that the rice absorbs the jaggery syrup.

While continuing to stir, add ghee in intervals.

When the mixture forms a lump and leaves ghee then it is done.This process may take around 10 to 15 minutes.You ll get a creamy kind of texture.

Finally add , fried cashew nuts, raisins and cardamom powder. Mix it well.

Now gudanna/nei payasam / jaggery rice is ready to offer to Goddess Lakshmi.It tastes wonderful when served either hot/warm/cold.Choice is yours .. have as you like.... and let me know how you liked...
Notes
NOTE:
Be little generous in adding ghee to gudanna. It gives nice flavor and taste.
The rice should not be neither mushy nor too separate.
You can use Fresh Coconut also.
Thanks for reading the post....plz drop ur valuable comments.. it really motivates me...