Hi friends ,
Today i have to share a great find with you all .."JUST EAT India" – India's largest online food ordering portal and table reservation website !!
I enjoy cooking at home and believe that cooking at home is much a better option. But sometimes i too feel lazy / dont have time to cook / bored and tired of eating my own cooked food and crave for some change. I enjoy eating out for one more reason- it helps me in trying out different cuisines, to explore different flavors, seek new food experience and finally to recreate those dishes in  my kitchen, in my style and share with you all.
But traffic jams,searching for parking,booking the table,waiting and in between many a things spoil the day. Uff ..its all such a mess!! By the time we get the table we would be so exhausted and whole enthu of eating out would have vanished.And i would be feeling – "Gosh, instead of going through all this it was better that i cooked something very simple and enjoyed at home with all .."
I know many would be nodding reading this, as im sure its not only me who would have gone through all this.As a solution to this issue, many restaurants have now started home delivery. But then it has its own drawbacks.Search for the restaurant number and then place an order.When placing orders via telephones there is no updated menu available in front of us.You call up the restaurant during its peak hour to order your favorite dishes and on the other end you find a person who either keeps you waiting or  is in a hurry to take the order and cut your call. In such a scenario,there are full chances of making and taking hasty and erroneous orders.But still somehow we have adjusted and stuck to it.
One day when i received a mail from JUST EAT offering a gift voucher to review their service, i was startled,overjoyed.What ??!! do we have online food ordering and table booking service ??!! I have been enjoying online shopping these days for all stuffs but online food ordering ,was something that i had never heard of. So before accepting to review ,i landed on their site for the first time. OMG!! It was something like Jabong , Myntra..– all brands at same place; here all restaurants at same place.I could no longer wait to try it. And WOW!!it worked like a charm.Just enjoyed eating through JUST EAT. I find the site very useful and would personally always prefer ordering through this rather than ordering food through telephone.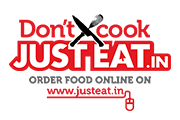 Below is my detailed experience with JUST EAT, how it works and what i liked most :
What is "JUST EAT" ?
JUST EAT India – India's largest online food ordering portal and table reservation website with one- click ordering system headquartered in Bangalore and with branches in Delhi,Mumbai, chennai plus a host of smaller cities and expanding rapidly. In just few simple clicks,hot and delicious food is delivered straight at our doorstep.
How it Works?
The image below makes it easy for us to understand how online food ordering is simple with JUST EAT !!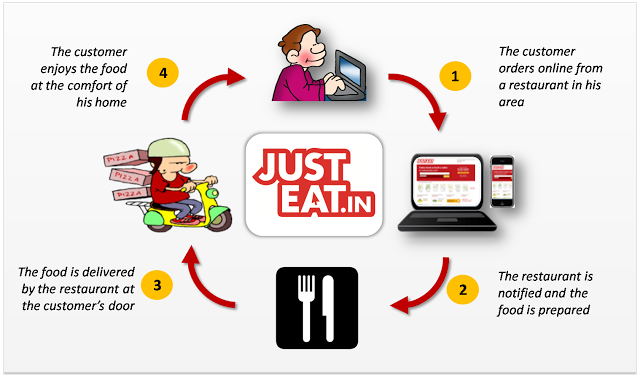 Enter your area in the search tool .
You will get a list of restaurants in your area.Select one restaurant which you like.
From the menu card with prices available,place an order by choosing your desired dishes.Your total billed amount inclusive of all taxes would be displayed.
Proceed to place order, an invoice would be displayed. At this stage you can select cash on delivery or pay online. If you have some coupon, you can enter the coupon code to avail discounts.
Once order is finalized,you receive an sms and mail from just eat immediately with your code no confirming your order.Thats it..you can sit relaxed and assured your food would be received fresh in time without any follow up from your end.
Isn't it hassle free friends ?
What i liked About JUST EAT?
Saves one the hassle of jumping from one site to another as yougetall types of cuisines at one place. Be it North Indian ,South Indian ,Italian,Mexican,Chinese….hundreds of  restaurants to choose from..choice,choice and more choice..With over 2500 restaurants, 52 cuisines and 3 lakh dishes to choose from..
Helps in exploring the restaurants we have in our area.You can check the reviews and ratings of each restaurant ,before placing an order.
Continuous update of status of our order through SMS and mail.
Lot of cool discounts if you are paying online while ordering food.Grab the coupon code and avail the offer ..
There's an app for your handset too and it's so easy to use.JUST EAT apps are available for free on Android,iPhone and Windows 8  platform . So just download and order food even when you are out and get food delivered by the time you reach home.
Best thing is you can preorder food for your next weekend.Just log in and place an advance order with JUST EAT specifying the date and time of the delivery .Forget about it. Delivery boy will knock your door on the mentioned time and day ..
 No more dealing with traffic jams,parking issues,waiting for table and grumpy waiters.. instead enjoy your favorite food right in the comfort of your home watching your favorite program at your convenient time.
I really feel this concept is amazing and especially for busy city like Bangalore where people are always stuck in their office,meetings,traffic,weekend parties…Now no more worrying,just order food from where ever you are and whenever you are free – "JUST EAT …".
Though they currently cater only to -Bangalore,Chennai,Delhi,Mumbai n Pune,but since JUST EAT is expanding and growing fast , i'm sure they will reach whole of India soon…Kudos and all the best to their team !!!
NOTE: The above review about JUST EAT is based on my personal experience and is unbiased.