Few days before i had posed a tomato salna recipe .. remember ?? In continuation to the post , today i have for you all a dish called " Kothu Parotta " made using Kerala Parotta, Salna and Egg / Meat / vegetables. Kothu Parotta actually means 'minced' Parotta .There are many variations of Kothu parotta- egg / meat / chicken / veg version etc. Today of course i will be sharing with you all the recipe for " Veg Kothu Parotta " . Its yummy,delicious and Perfect for breakfast, dinner or as a snack….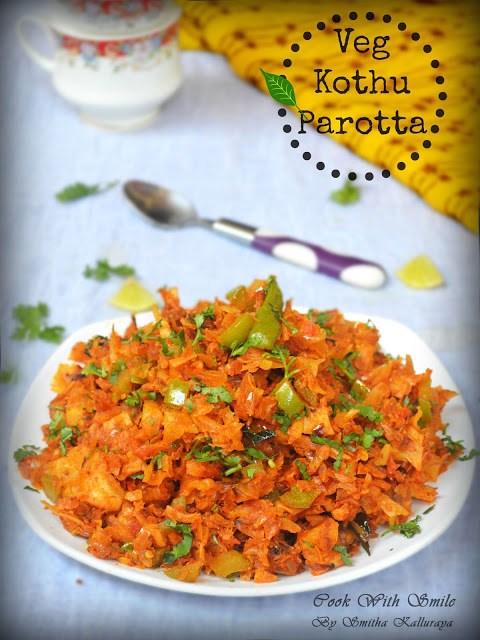 The first time I had this dish was long back in a small road-side shop in Chennai . Watching the street vendors making it is itself a lovely sight . The ingredients are thrown on a greased hot cast iron griddle .They are later minced and mixed by repeated pounding using 2 heavy iron spatula. Salna is very important ingredient here. I have shown the actual way of doing kothu parotta. But if you want to make it jiffy , you can skip making salna and just spicen up your kothu parrotta with some chilli powder , garam masala powder and chat masala . As now a days , ready made Kerala parottas are available almost everywhere , making kothu parotta at home is so so easy . Do try this recipe for sure.. i'm confident that you will just love it . But before you try ..let me WARN .. this dish is heavy , takes in little more oil and highly irresistible. So if you are on a mission weight loss watch out .. don't blame me later.. He He….!!!
Veg Kothu Parotta
Ingredients
4

Parotta

1/2

cup

salna

2

medium

onion

,

sliced

1

big

tomato

,

chopped

1 - 2

Green Chillies

,

sliced

1

capsicum

,

- small ( optional ; but preferred )

1/2

cup

Mixed veggies

,

( beans , carrot , peas etc ) ( optional )

a big pinch

Turmeric / Haldi powder

1/2

tsp

Red Chilli

,

powder

1/2

tsp

Pepper

,

powder

Curry Leaves

,

few

handful

Coriander leaves

,

(finely chopped)

to taste

Salt
Instructions
Heat a tawa / griddle . Roast the parotta by adding a tsp of oil.Stack the cooked parotta and pat it between your palms so that the layers get seperated .

Chop them into small pieces roughly using your hands or a knife or kitchen scissors. i used knife .

Heat Oil in the pan.Add green chilli, curry leaves and onion. Saute till light brown.

Add tomato and capsicum . Add little salt.Saute till tomato is mushy.

Now add finely chopped vegetables and saute for 3-4 mins till veggies are cooked or you can precook them partially and add .

When the vegetables are sauted well, add turmeric powder , chilli powder . Mix

Add the Salna (Gravy) and remaining salt . Stir for a second.

Now add the shredded parotta pieces . Mix it really well . Nicely mash and pound the parotta pieces with your dosa flipper such that they get minced nicely and get coated to the spices well. If required add more oil / salna .

Finally add pepper powder and Saute well till it is slightly roasted.

Garnish with chopped coriander leaves and serve hot .
Notes
NOTE :
I have used ready made ID brand kerala parotta . If you want can make in home too .
If you want can apply the same recipe to left over chapathi too.
If you don't have time to make Salna , you can skip and instead make kothu parotta quickly using the short cut method ie once tomato becomes mushy add a tsp of red chilli powder , garam masala powder and little chat masala to it and saute. Later addminced parotta
YOU CAN SEE TOMATO SALNA RECIPE HERE
Thanks for reading the post....please drop your valuable comments.. it really motivates me...Also If you liked this post, I would really love it if you could share it ...Thank you !!
Love ~Smitha