Lauki Kofta Curry Recipe | Lauki kofta curry recipe with step by step pics | How to do lauki kofta curry | Bottle gourd kofta curry | How to do dudhi kofta 
Today i have for you all " Lauki Kofta Curry / Dudhi Kofta Curry " .. a very popular North Indian style curry that's usually enjoyed with Roti / Naan / Jeera Rice / Ghee rice etc . In this curry a delicious melt in mouth koftas are made and served in creamy, rich onion tomato based gravy .
Kofta's can be made of Paneer / Potato / Bottle gourd / Raw Banana etc but for today the chosen is lauki kofta aka bottle gourd kofta . Making of lauki kofta curry does take some time but the end result is worth .. perfect for a special dinner/weekend lunch. Even if you are not a fan of  bottle gourd, you will definitely like it in this form 🙂
Authentically, kofta for any kofta curry is deep fried .. but for health reason's and to cut calories .. we can shallow fry them in Appe pan or grilled . With crispy texture from outside and melt in mouth feel from inside , they taste too good. Without corn flour / rice flour.. koftas will turn very soft inside and get mushy very quickly once added in the gravy .. doesn't retain shape. So alway's do add. Also, in the authentic version, while making gravy .. generous amount of cream is added.T o make comparatively low cal have added few cashews/almonds while grinding the base for the curry and later have added little thick curd while sauteing to get that perfect creamy texture. If you want can just use cream for garnishing.
So are you ready to make a note of this delicious Lauki Kofta curry recipe .. here you go …
You can check few other bottle gourd recipes shared earlier here : Bottle gourd  halwa , Lauki Channa dal , Bottle gourd raita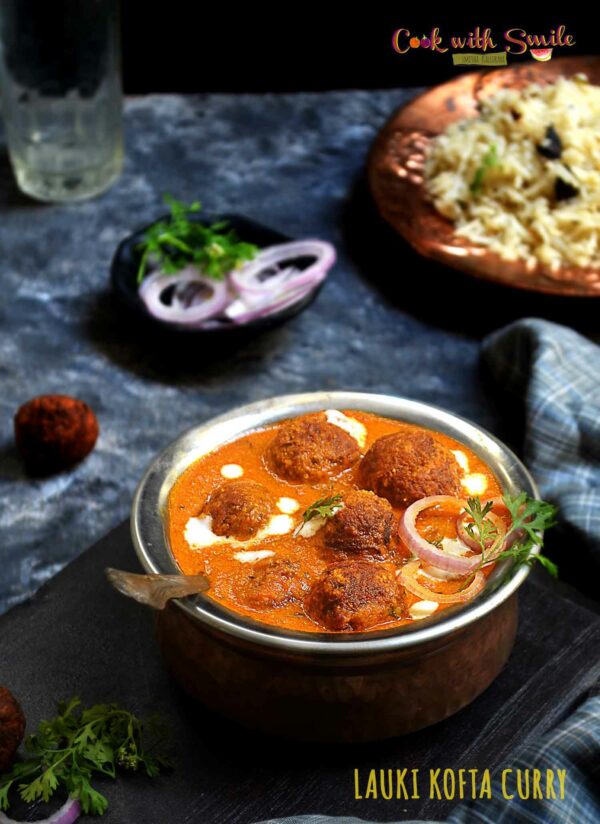 | | |
| --- | --- |
| | |
Peel and grate Bottle gourd. Discard the centre pulp seeds region. Add salt .. keep aside for 10 mins.

After abt 10 mins, bottle gourd would have left water. Now squeeze the excess water , thoroughly. Repeat the squeezing step 2-3 times.

Make sure to remove water from bottle gourd thoroughly. Reserve the juice to be used in the curry later.

To the squeezed bottle gourd .. add salt, haldi, red chilli powder, ajwain, coriander leaves, besan and rice flour.

Combine everything without adding water. Dough for Kofta is ready. Make sure it's not too gooey. Also, don't add too much besan, the taste of bottle gourd will be lost.

Shape as small balls to make koftas .

Deep fry or shallow fry the koftas in appe pan . Keep the fame on low .. else the centre wouldn't be cooked and the outer cover would have got browned quickly.

When Koftas are golden, drain on tissue. Keep aside.
To make lauki kofta Curry
To make gravy, Add a tsp of oil to a pan / kadai . Saute Onion, ginger garlic and green chilli.

Once Onion's are translucent, add chopped tomatoes, salt and almonds/cashew. Saute till tomatoes turn mushy.

Cool down and grind it a fine paste.

To the same kadai, add oil/oil + Butter/butter. Temper cumin seeds and Bay leaf. After jeera splutters.. add haldi and red chilli. Saute for 10 -20 seconds. Adding red chilli to hot oil while tadka gives a good deep red color to the gravy.

In goes .. ground onion - tomato paste. Saute for 3-4 mins.

Add little curd, dhania powder and crushed kasoori methi .Saute for 1-2 mins till raw smell of curd goes.

After masala is sauteed well .. add bottle gourd juice, that we had kept aside. Mix. If required add some more water. Bring the gravy to boil...

When gravy is boiling , drop kofta into the curry and add garam masala powder. Simmer and boil for 4-5 mins.

Lastly, garnish Lauki kofta curry with chopped coriander leaves and with little cream.

Enjoy tasty creamy lauki kofta curry with choice of flatbread like naan / chapathi / roti or serve it with jeera rice etc .
If you don't have rice flour ..use corn flour
Dont keep the dough made for kofta for long .. they will keep leaving water and become gooey .
Try to squeeze water nicely multiple times so that you needen't add more of besan / rice flour to absorb extra water . Adding more flour will take out veggies taste
If you are serving kofta curry after 2-3 hours , don't add koftas into the curry and keep . they will become soggy .Just 30  mins before serving , bring the gravy to boil and drop the koftas and let it sit for sometime so that .. kofta balls absorbs little gravy .