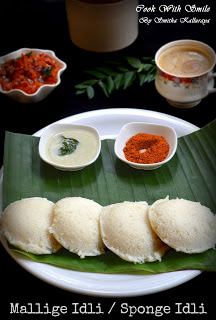 Idli is one of the most popular and healthy South Indian dish. There are many variations in making idli . I have shared a couple of Idli recipes like thatte idli , dalia idli , Sabudana idli , Instant Idli etc and today it is Karnataka special " Mallige Idli ". They are very famous in Mysore , Bangalore region. "Mallige" in Kannada means jasmine flower . Since these idlis turn out as soft and white as jasmine flowers , they are named as  'Mallige Idli '.Typically cooked rice and beaten rice is added while making the idli batter which gives that softness to idli. But in my home , adding cooked rice to the batter , keeping overnight and later using the batter for 1-2 days is not OK . So as a replacement i use sago and it too gives excellent result . Soft , spongy these mallige idlis can be translated as Sponge Idli . They are also a close cousin of Tamilnadu's Kushboo Idli . Do give a try friends .. i am sure you will just love these melt in mouth softy fluffy idlis…here you go…
MALLIGE IDLI
soft fluffy Mallige idli recipe
Ingredients
4

cups

Raw Rice / idli rice

1

cup

Urad Dal / split black gram

1

cup

Thick beaten rice/ Poha

1/2

cup

Sabudana Sago

1/2

tsp

Cooking Soda

( optional , i don't use )

to taste

Salt

Oil to grease
Instructions
Wash all the ingredients and soak each seperately . Soak rice n sabudana for 4-5 hours . Urad dal and beten rice for 1-1.5 hours .

Grind the urad dal first into very very smooth paste adding enough water.Do not add water at once. Add it in intervals.

Once , urad dal is done , add rice, poha and sabudana and grind adding little water. Grind them all together into smooth batter . The final batter should be smoother than the normal idli batter.

Transfer the ground batter to a big vessel , add salt , mix well and keep aside for fermentation . let it ferment for 10-12 hours .

Morning the batter would have fermented . Mix gently before pouring into greased idli moulds. Check the consistency . The batter should not be too watery nor too thick... just slightly thin.

Heat water in a steamer.If you are adding soda , add at this stage and mix. Grease idli molds with oil .Pour the batter into idli stand.

Steam for 10-12 mins on medium flame.Prick a tooth pick,if it comes clean it means its done.Allow it to cool a bit and remove from molds using a greased or wet spoon or knife.

Thats it soft, spongy Mallige Idli's are ready to serve. Serve with coconut Chutney / tomato chutney /  Sambar / Gojju / Chutney Powder.
Notes
Instead of raw rice you can use idli rava too.
As said earier , typically cooked rice is used . So , if you are OK with it repalce sabudana with equal quantity of cooked rice .
I use small variety sabudana . So 4-5 hours soaking time enough. However , if you are using , bigger type, then you will have to soak them overnight . or the quickest way is add sabudana to hot water and keep it closed for 2-3 hours . This will reduce soaking time .
Adding cooking soda is optional.  In hotels they use but i dont use it. You try and see which way you like.
The final batter should be smoother than the normal idli batter .
Thanks for reading the post....plz drop ur valuable comments.. it really motivates me...Also If you liked this post, I would really love it if you could share it ...Thank you !!
Love ~Smitha