Today i have for you all a classic Coastal Karnataka dish that's Brined Raw Mango Raita / Mavinakayi mosaru gojju . It's a simple accompaniment made with raw mango and yogurt .. which tastes absolutely lip smacking with rice . ..
As we all know Mangoes are seasonal which goes out of sight after summer.  In olden days , during rainy season , especially in rural coastal areas , people had very less access to vegetables . So they would preserve many seasonal  things like raw mango ,  jackfruit , hog plum etc in salt water and use them during rainy season by preparing various dishes out of it .Though now we have everything available through out year , the age old custom of preservation in Brine is still followed by many . Brine raw mango is one of my ever favorite . My mom prepares it every year and gives few to me to use them in off – season . Basically , firm , matured un-ripened mango is preserved in boiled salt water stored in an air tight glass jar / porcelain jar. As they are preserved in brine, they last for a very long time. Since now its Mango season , one can make this raw mango raita using fresh ones . It will be spicy and tangy . Addition of onion and garlic adds a zing . Do try and i am sure you will love it .. and end up over eating 🙂 . Remember not to skip coconut oil .. which makes it more tasty !!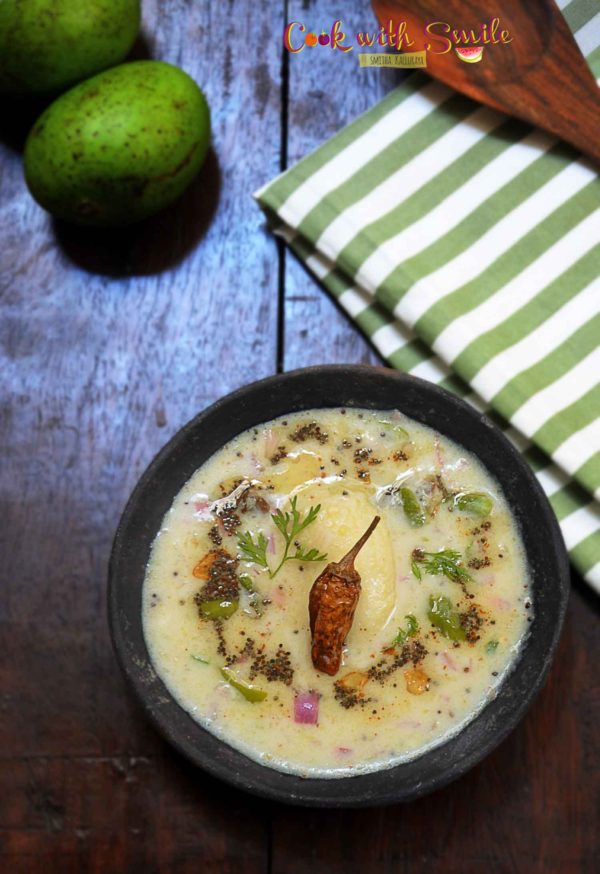 | | |
| --- | --- |
| | |
Make 1-2 slit in the raw mangoes and pressure cook or directly cook with little salt till its soft .

When its cool , mash the raw mango nicely with your hand in curd . After taking out the pulp nicely , discard the skin . You can retain the seed .

Add salt , finely chopped onions and green chilli .

Now prepare a tempering of mustard seeds spluttered in coconut oil . Add curry leaves , curd chilli and hing . Pour the tempering on the curd gojju . Mix

Relish raw mango raita or mavinakayi mosaru gojju with rice . Drizzle with few more drops of coconut oil on rice while serving for extra taste .
Don't use sour curd for this dish as raw mango will already be tart .
If you want you can skip garlic and onion . But it enhances taste .
Method to make brine mango : Wash 1 kg raw firm  mangoes and pat them dry using a dry kitchen cloth, Keep aside.Combine around 1 cup salt with 3 cups of water in a pan and bring to a boil.Allow the salt water to cool completely. Add the raw mangoes to it. The raw mangoes should be immersed in water completely . Bottle them in a sterilised glass jar/ porcelain jar covered with a light lid.The mangoes will be ready to use in few days.