I often make different types of wraps in my home as every one loves them and its very handy , mess free and a good dish to sneak in veggies . So today i have all " Paneer Kathi Rolls recipe/ Paneer Frankie recipe / Paneer wraps " – one  healthy, tasty and a fuss free wrap which i am sure would loved by all .Its so colorful, easy to make, super tasty and kind of grab to go food . Its also a good makeover dish to clear off your left over chapathi / tortillas / paneer subzi . Make it from scratch  or be it a leftover makeover .. this paneer kathi rolls is definitely a HIT !!!!
Paneer Kathi rolls is actually a popular street food originated from Calcutta . They are popular under various names as paneer kathi rolls / paneer frankie / paneer wraps in different regions . This Paneer Kathi rolls are made by filling the Tortilas / chapatis with a melange of vegetables like lettuce, Carrot , Onion capsicum and some pan fried paneer Tikka.Toss in your choice of veggies, mix it up with some spices and stuff inside a flatbread and you are set! If you have food processor you can use that to save time To make paneer cubes more tasty .. i have marinated in hung curd and tikka masala and pan fried . Its your choices.. if you want you can just use raw paneer cubes too . To make it colorful .. i have used color capsicums . This again is optional . If your kid likes potatoes / corn / baby corn / any other veggie / non veg .. you can add that too . When ever i make veg jalfrezi .. i keep aside a small portion of it and make kathi rolls .By now you must have got an idea how versatile these wraps can be .. you can sneak in anything and make your kids enjoy the meal . Do try this recipe for making panner kathi rolls .. trust me they are absolutely delicious ..
You can also check Veggie Cheese Salad Wrap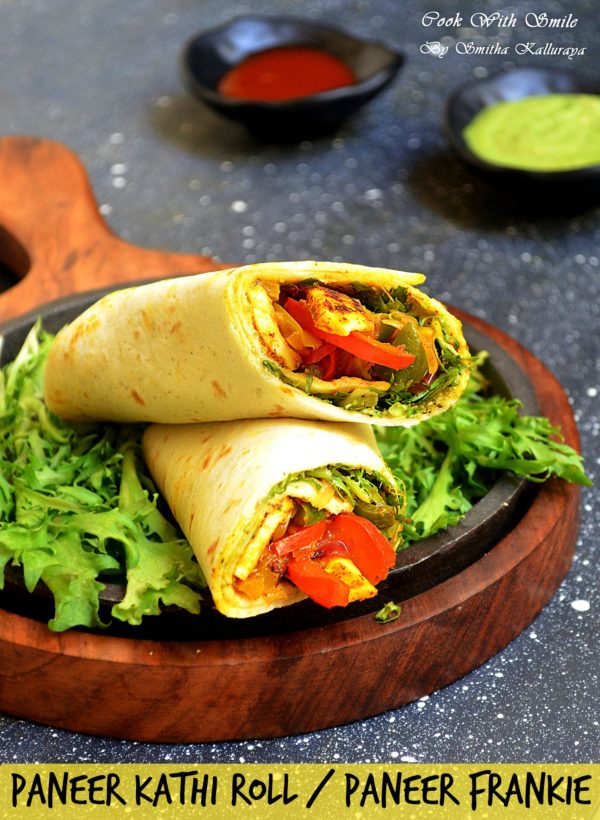 For Paneer Tikka( Marianation )
| | |
| --- | --- |
| For Paneer Tikka( Marianation ) | |
Thinly slice paneer into vertical pieces . This will help us to arrabge it neatly inside flatbread later.Keep aside

Roast besan on medium flame till they are aromatic and raw smell goes.Take all the ingredients listed under "marination" into a bowl. Mix everything well .

Throw paneer slices in the marination and gently mix such that they get well coated . Cover and keep it in the refrigerator for about 30 mins .

Heat a tbsp of oil in a pan . Arrange marinated paneer slices on it and roast them both sides till they are nice and crisp .

Turn off flame and squeeze lime . Keep it aside to use for stuffing . Resist your temptation to eat them as such 🙂
Clean , Wash and cut all veggies into thin slices as shown in Pic . Keep aside .

Take a pan . Heat 1-2 tsp oil in it. Throw in all veggies and saute for 2-3 mins on high flame . I like them slightly crunchy . If you want cooked . you can saute longer

Add salt , haldi , chilli powder , jeera powder and garam masala powder . Mix everything well

Add tomato ketchup or hot n spice sauce . MIx on high flame for 1-2 mins . Switch off . Garnish with coriander leaves .
Time to assemble and make wraps
Apply little oil / butter on tortillas / chapathi / kerala parotta and roast on a tawa. place them on a plate

Take a flatbread . Apply a tsp of mayo / any cheese spread if you wish to . This step is optional .

Spread a teaspoon of green chutney all over the roti.

Then place a bed of crunchy lettuce on the centre and spread it length wise. Add some sliced raw onion for crunchiness and then prepared veggie subzi .Spread all length wise as shown in pic.

Place 2-4 ( or as much as you like ) paneer tikka slices on it .

Wrap the filling tightly with the chapathi and make a roll . If you want you can use aluminium foil or tooth pick to seal and make a tighter seal . I normally dont use them .

Serve Paneer Kathi roll with with mint chutney and / ketchup . Enjoy !!!