Makara Sankranthi is just a couple of days away . So i thought of sharing  a traditional age old Sankranti recipe " Sakkare Acchu / Sakkare Achchu " today with you all . Sakkare Achchu are basically sugar figures made from purified sugar syrup .These sakkare achhu are made in various shapes using wooden moulds .Ellu-bella ( A mixture of white Sesame Seeds, Chopped dried coconuts, roasted groundnuts, roasted  chana dal and jaggery) , sakkare achchu  along with sugarcane and banana is exchanged among friends and relatives in various regions of Karnataka .I learnt recently that they are called as PANCHADARA CHILAKALU in Andhra and khilona in North India .
My mom has a very good collection of wooden moulds which are used to make sakkare achhu . Come January , my Mom gets busier making all ellu bella preparations and sakkare achhu . She makes sakkare achachu in large quantity and gives it to me , my aunts , my brother etc . She loves doing them in home though now we get all ready made in shops. Though the whole process is labour intensive , somehow i too love making all these at home. Store-bought sakkare achhu can never beat homemade ones. These home made sakkare acchu are melt in mouth and so hygenic . Growing up , I still remember .. i would assist mom in pairing the moulds , tapping them , arranging them etc . And the excitement of seeing a plain sugar syrup converting to colorful dolls …WOW !! those used to be our play time ..that's how festive spirits would spread in the air . .Few memories indeed make you feel nostalgic….
I am happy that this year I could capture this traditional age old method of making sakkare achchu through my mom . I am sure our next generation wouldn't be knowing at least half of our traditional recipes.This is my attempt to capture all such recipes at one place before they are lost . If not making , at least they can see that once upon a time our ancestors used to make these sakkare Achchu at home ….
Agree for a beginner it may look very tricky , lengthy.. but with some precision .. anybody can nail it !! Do Remember FOR EVERYTHING THERE IS A FIRST TIME !!! Do try these home made Sakkare Achchu this festive season.. let the tradition of passing culture start from your home !!! There is a video too .. to make things more clear…Here you go….
Check Out the Video recipe here :
you may also check other sankranthi recipes like ellu bella 
daliya khara pongal , daliya sweet pongal etc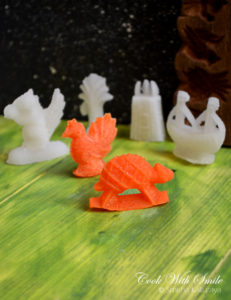 SAKKARE ACHCHU
Sakkare Achhu / Sugar Moulds - are basically sugar figurines made from purified sugar syrup .
Ingredients
1

cup

Sugar

1/2

cup

Water

2

tbsp

Milk

1

tbsp

curd

pinch of

Food color

,

optional ( use only if you want to make colored achhus )

white muslin cloth

wooden moulds / silicone moulds
Instructions
Prep up wooden moulds
Soak the wooden moulds in water overnight / 5-6 hours .

Later , join the pairing moulds and hold them together firmly using rubber bands . Keep all the moulds ready before you start making the sugar syrup . If you are using silicone moulds .. skip the first 2 steps.
Sugar Syrup Prep
Soak 1 cup of sugar in 1/2 cup water for 2-3 hours . If you soak more also .. no problem .

Mix well and keep the sugar solution on medium flame and bring it to a gentle boil.

When the the sugar solution has started boiling .. add 2 tbsp of milk and mix. Bring to a boil .

Sieve the sugar syrup using a muslin cloth over an other vessel .

Place the strained sugar syrup back to flame. When it's about to boil ..add a tbsp of curd. Mix. Bring to boil . Observe the scum collecting on top . Sieve using a muslin cloth and strain the scum .

Now place the pure sugar syrup on the flame and keep stirring in between . After sometime you will see that the syrup starts boiling .. keep the flame on low and stir in between . Soon after sometime .. you will observe that the sugar syrup has started to thicken and a thick frothing starts .

At this point , take off the syrup from heat and start beating the syrup vigorously till the frothing settles . Once the frothing settles..observe the sugar syrup . If it's transparent.. it means sugar syrup has not yet reached the desired consistency .

Put the syrup back on flame and bring to boil . Thick frothing starts .. take off the syrup from heat and start beating the syrup vigorously again till the frothing settles . Observe the sugar syrup . If it's still transparent.. it means sugar syrup is not ready . You might have to do this heating beating step some 5-6 times till you get the perfect syrup .

Finally our sugar syrup is ready when it looks translucent.. kind of cloudy white types ..castor oil thickness types .. hope you are clear what i mean . This is the perfect consistency of sugar syrup for making sakkare acchu .

If you want to make colored achhu .. add pinch of color at this stage and mix quickly .
Time to make Sakkare Achhu
Pour hot sugar syrup into the prepared moulds quickly . Tap in between so that sugar syrup gets distributed evenly and no air bubble is trapped .

Allow the syrup to set and solidify in the mold for 10-15mins. Remove the rubber bands and gently open the wooden moulds . Take a pin / tooth pick gently separate the achhus from the molds . Remove the achhu carefully from the molds with the help of a sharp knife or a tooth pick.

Our Sakkare Achuachu 's are ready !!! Arrange them on a plate , Sundry for 1-2 hours and store them in an airtight container . No need to refrigerate .. they stay good for months !!!
Notes
If you are using wooden moulds you must soak them before using . Even if you are making second batch of acchu , soak the moulds for sometime and use . For silicon moulds this step is not required .
Always use coarse sugar . If the sugar is fine .. sakkare achhu won't come proper .
Soaking sugar makes a soft n melt in mouth sakkare acchu.
Addition of milk and curd helps to get soft white sakkare achchu .They help in removing the impurities from sugar
I you want you can add  few drops of lemon juice towards the end for that citrus hint .
Always make sakkare achhu in small batches .
If you want to do large quantity , in that case ... divide the purified sugar syrup ( ie strained syrup  after adding curds ) in 3-4 parts and then proceed to thicken the sugar syrup batch by batch .
While pouring you must be really quick . Beat and keep pouring quickly .
Still while pouring , if the sugar syrup hardens ... don't panic .. you can remelt it by adding 1-2 tsp water / reserved sugar syrup .
While removing from the moulds ..if the achchu breaks don't waste it . You can remelt them and pour back to the moulds .
If you don't have wooden moulds .. you can use silicone moulds to make them . this is how it turned for me.... super easy to make ...