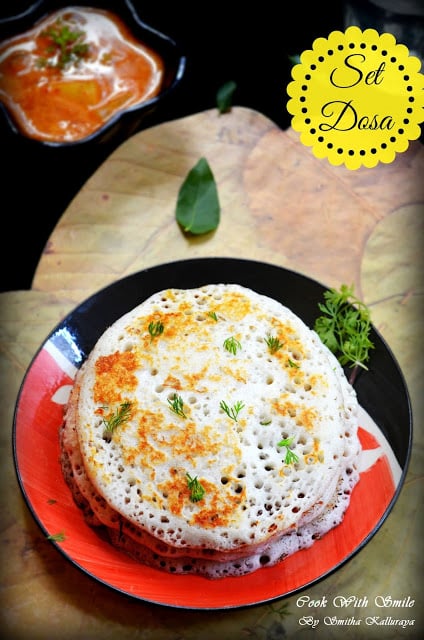 Its been many days since i shared some dosa recipe , right ? So today i have for you all one special variety of dosa from Karnataka which i am sure is a favorite for most . Soft , spongy and porous these " Set Dosas " are one of the hot selling dish in restuarants in Bangalore. Served with sagu / kurma along with coconut chutney .. they taste just awesome and one of my all time favorites. Usually in hotels 3-4 dosas are stacked and served , hence the name " Set Dosa " .Unlike regular dosas , set doass are small in size , soft and fluffy in texture . Few people call them sponge dosa too as they are ver soft and remain so even after few hours .So it makes a good option for lunch box too.  Making set dosa at home is so easy . Do try and be prepared to receive loads of accolades and Yes don't forget to share your feedback with me later !! Here you go…
Also check other dosa like menthe dosa , millets dosa , etc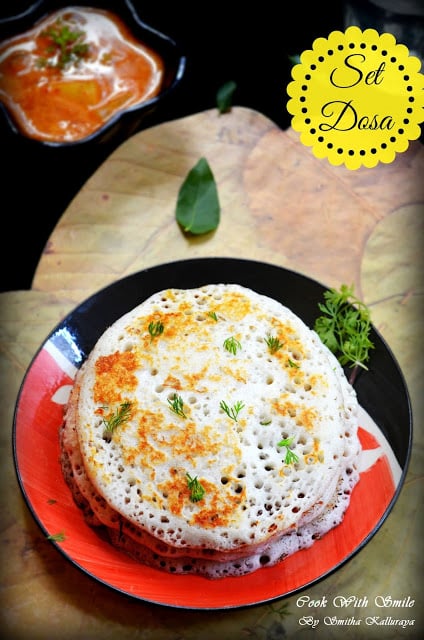 | | |
| --- | --- |
| | |
Wash urad dal and rice . In a bowl take rice,urad daal,methi and sabudana and soak in enough water for around 5-6 hours.

In another bowl soak poha with fresh curd for about 1-2 hours .

Drain water from the soaked daal rice mixture . Transfer them to a mixer or grinder along with poha soaked in curd . Grind all to make a smooth batter adding little water .Dont add much water while grinding.

Add salt to the batter , mix and allow to ferment overnight or 4-6 hours. The batter has to be thick at this stage. As it ferments , it will get thinner .

In the morning / after 4-6 hours , you will observe that the batter has fermented nicely . Add soda and sugar to the batter and mix gently . Check the consistency of the batter . It should be thick milkshake consistency . If required add little water . Our set dosa batter is ready .

Lets proceed to make set dosas. Heat a tawa. Grease with little oil.Pour a laddle full of batter. No need to spread. It has to be like thick small pancakes .

Drizzle few drops of oil around it.Cover and cook on medium flame for abt 1-2 mins.Once its done, the dosas comes out easily from the tawa .If you want you can flip and cook other side too for about 30 sec or serve as such.

Super soft ,porous and spongy Set Dosa is ready. Serve hot with chutney / veg saagu / veg kurma / potato saagu / sambar / chutney powder .
Addition of sabudana is optional . But recommended . It makes dosa more fluffy .
Dont forget to grind the batter thick only . i have observed usually this dosa batter gets thinner and thinner as the batter ferments . So better to grind thick and later add water i required .
Inspite of taking care , if the dosa batter has turned thin next morning after fermenting , add little rice flour to fix it.
I ususally don't add cooking soda to any of my dosa s except set dosa. It comes out best after adding soda. However if you want to omit , you can , but i wouldn't suggest .
Better the fermentation , fluffier the dosa.
Remember when you pour set dosa batter on the tawa , don't spread in concentric circles like regular dosa. Just pour a laddle of batter and leave like thick pancake. This will make them porous.
While cooking these set dosas you can cook one side or both ways .It is up to you