Today i have for you all a simple dish – " Snake Gourd Chutney " prepared from tender seeds / pulp of snake gourd which is usually thrown as waste . It's known as Padavalakai Chutney in Kannada , Pudalangai chutney in Tamil and Potalakaya chutney in Telugu . Since we are using tender seeds or pulp of snake gourd , this snake gourd chutney is full of fiber and tastes best with plain steamed rice,Idli,dosa, paniyaram etc.  Next time you buy snake gourd and are about to discard the pulp , you know what you have to do .. yes Snake gourd chutney !!!
Snake gourd is high in water content and has a cooling effect on body. It is also a low calorie veggie and hence good for weight management. I had earlier shared many vegetable chutney varieties ,  to add to the long list .. today it's Snake gourd pulp chutney .  Our ancestors were very clever. If we peep into traditional grandmas kitchen ,we are sure to find numerous ways in which they incorporated the peels, seeds and kernels in regular diet. One can tambli too out of these snake gourd pulp.. i will share the recipe some time later . For now .. are you ready to jow down this no onion no garlic Snake gourd Chutney recipe .. Here you go …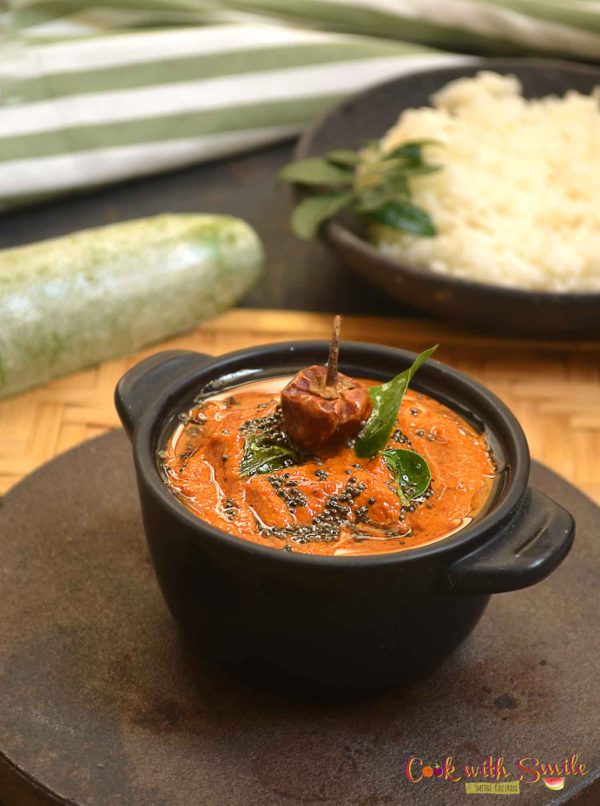 | | |
| --- | --- |
| | |
Wash , remove the tip and cut snacke gourd at centre . Remove the fleshly part.. pulp .Since we are using tender snake gourd .. the seeds in it will be small . So we can use it too .

Cook the pulp until soft with little water , haldi ,green chilli and tamarind. It will get cooked easily.Once cooked allow it to cool .Don't throw away water.

Meanwhile take a kadai / frying pan. Add urad dal, chana dal, red chillies ,curry leaves and hing. Fry them in oil till urad dal n chana dal turns golden brown in color.

Add grated coconut to it and roast for a min.Switch off and allow to cool.

Transfer roasted masala to a blender / mixer. Add salt , jaggery (optional) and cooked snake gourd pulp. Grind adding little water. Don't make the chutney too smooth, a bit of coarseness gives it nice texture.

Prepare a tempering by heating 1 tsp oil and adding mustard seeds and curry leaves. Garnish chutney with tempering.

Now snake gourd pulp chutney is ready to serve. Enjoy it with plain hot steamed rice drizzle with coconut oil/ghee or serve with idli ,dosa,etc.
Variation :Instead of snake gourd pulp , bottle gourd pulp etc  you can use ashgourd pulp.
If the seeds are over grown .. don't use them . Will make chutney bitter . So . tender ones are preferred to make this chtney .
If the snake gourd has over grown .. disacard the pulp instead use the veggie to make the chutney .