Tomato Sevai Recipe with step by step photos | How to do Instant tomato Shavige Tomato Bath | Tomato Semiya Recipe
Tomato Sevai or Tomato Shavige bath quick, spicy, tangy and an easy to make dish … that's a perfect option to serve any time of the day. With the bursting flavours, this Tomato Semiya made from instant rice noodles … along with a cup of hot coffee, ahaa… super !!!
Rice vermicelli upma can be flavoured many ways like lemon sevai, Mango sevai, Coconut sevai, tamarind sevai etc and I love each of them. For today the chosen one is Tomato sevai . The base masala of this is almost the same as Tomato rice . A bhaji kind of masala is made using tomatoes, veggies and few spices and later mixed with precooked sevai. One can make sevai from scratch like idiyappam or ottu shavige and later spiced up. But it calls for a lot of procedure and time. These instant rice noodles make our life so easy …hardly takes 15 mins to make. Sound's interesting right? So are you ready to make a note of this Tomato Sevai Recipe … Here we go …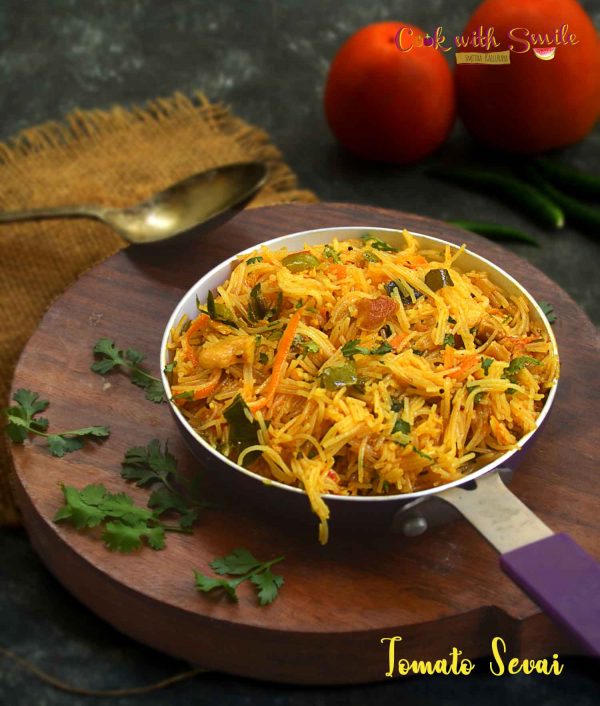 | | |
| --- | --- |
| | |
Boil excess water in a broad pan. Add a little salt. When water starts boiling, add noodles and cook as per the package instructions. Test if sevai is cooked by pressing between ur fingers. If it breaks easily, it's cooked. If it squishes its overcooked.

Drain the hot water and run noodles under cold water. Smear a tsp of oil, so that noodles do not stick. Spread it and allow to cool .
To make Tomato Sevai, first temper mustard, urad dal. Add cashews or groundnut. Saute till golden brown.. add few cumin seeds.

Add chopped onions, curry leaves and slit green chilli. Saute till translucent. Add tomato, grated carrot and capsicum. Saute 2-3 mins. If you have peas add that too.

Add Haldi, salt and chilli powder. If you want add garam masala too.Saute 1-2 min. Cook till mushy.

Lastly, add coriander leaves. Mix. When the water has evaporated switch off. Tomato sevai masala is ready . switch off

Add pre-cooked instant sevai, grated coconut (optional ) .Mix gently .

Tomato shavige bath is ready.
Cooking instant rice noodles is very easy. But take care not to overcook. Else they become mushy. So do follow the instructions given on the packet carefully to get the perfect non sticky noodles.
I normally use dragon brand rice sevai as it doesn't require very careful observation. By mistake in case if you overcook for a minute or two also,it doesnt get that mushy..Other brands available in the market are Concorde,MTR,Anil ,TTK,double horse etc.