.Zafrani Pulao Recipe | How To do Zafrani Pulao with step by step photos |  EasHow to do easy Zafrani Pulao | Indian Saffron Rice recipe | Saffron Pulao Recipe
Zafrani Pulao , is a classic dish that represents rich Pakistani food. This Saffron Pulao is made using rice, saffron, dry fruits and is served especially during festival time. Saffron makes the dish very aromatic, spices add flavour and dry fruits give a royal touch to this exotic dish. It's simple yet flavorful , exotic and very delicious. Tastes best with tomato onion raita or salna. Enjoy it as your weekend meal or cook up this easy Zafrani pulao and surprise your guests !!
Few essential things required for a good zafrani pulao are … always use the best quality long grain Basmati rice, use best quality saffron ( Kesar) to make it very flavorful, be liberal with usage of nuts and gentle with spice level. Hero of the dish is saffron, so we don't want other spices to overpower it. Always pre-soak basmati rice for min 30 mins and once it's ready, let it sit for 4-5 mins and later fluff it gently using a fork to retain those long grains.  You can check few other simple pulao like Corn pulao , kathal pualo , Peas Pulao etc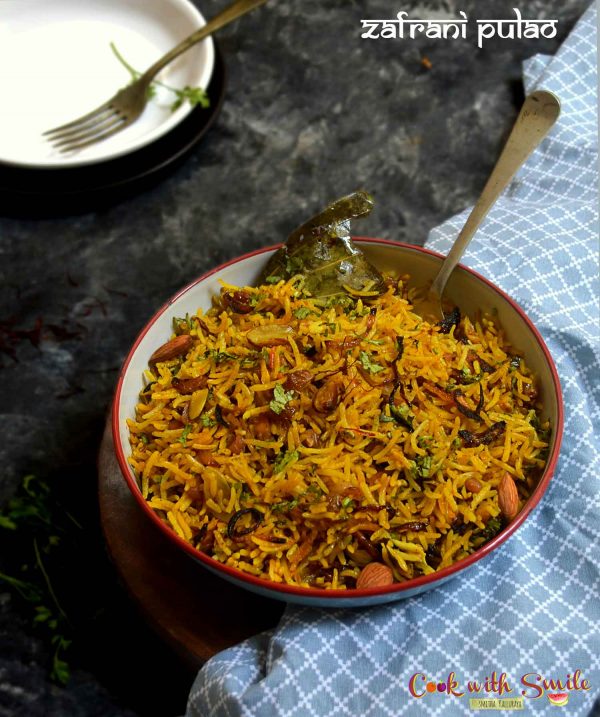 | | |
| --- | --- |
| | |
To make zafrani pulao, first, soak Saffron in 2 tablespoons of hot milk for 10-15 mins.

Wash and soak rice for about 30 minutes.

In a heavy bottom pan, heat 1 tablespoon of ghee in a pan, add jeera, whole garam masala spices (bay leaf, cloves, cardamom, cinnamon), dry fruits (cashew nut, almonds, raisins) and sauté it. Let the whole spices get aromatic and dry fruit to become golden brown.

Then add sliced onions, ginger garlic paste. Saute till raw smell goes and onions are golden brown.

Add curd, tsp of biryani masala and turmeric. Saute 2-3 mins

Add little less than 3 cups of water and boil.

When water starts boiling, add soaked drained rice, salt and chopped herbs. give a gentle mix. Cover and cook.

When water is almost absorbed, add saffron milk, fried onion, pomegranate seeds and remaining ghee. Cover and simmer until done.

Once cooked, fluff up the rice very gently using a fork. Take care not to make it mushy.

Dish out Zafrani Pulao and garnish with fried onions and chopped coriander leaves. Delicious easy zafrani pulao is ready to be served.
To make it a Vegan version, instead of ghee use oil and instead of milk soak saffron in water.
Remember to always soak basmati rice for a minimum of 30 min.
If you want can use few drops of rose water.