Today i have for you all a classic dish from Udupi , Mangalore , Coastal Karnataka – " Kotte Kadubu / Kadubu Idli " . These are basically idli made in jackfruit leaf . They are very soft when compared to the regular idli and are very very fragrant as they are steam cooked in a mould made of Jackfruit leaf . These leafy moulds add a distinct flavor and fragnance to the idlis that makes them really unique and delicious! Though kotte kadubu is very common in coastal Karnataka .. it still tops the list of special breakfast dishes.. and one of a must during Ganesha Chaturthi . Served with a spicy coconut chutney / sambar / majjige huli …. they just taste amazing .. i actually love even with coconut oil and mango pickle .. yumm.. deadly combo !! You must try it for sure to know what i mean !!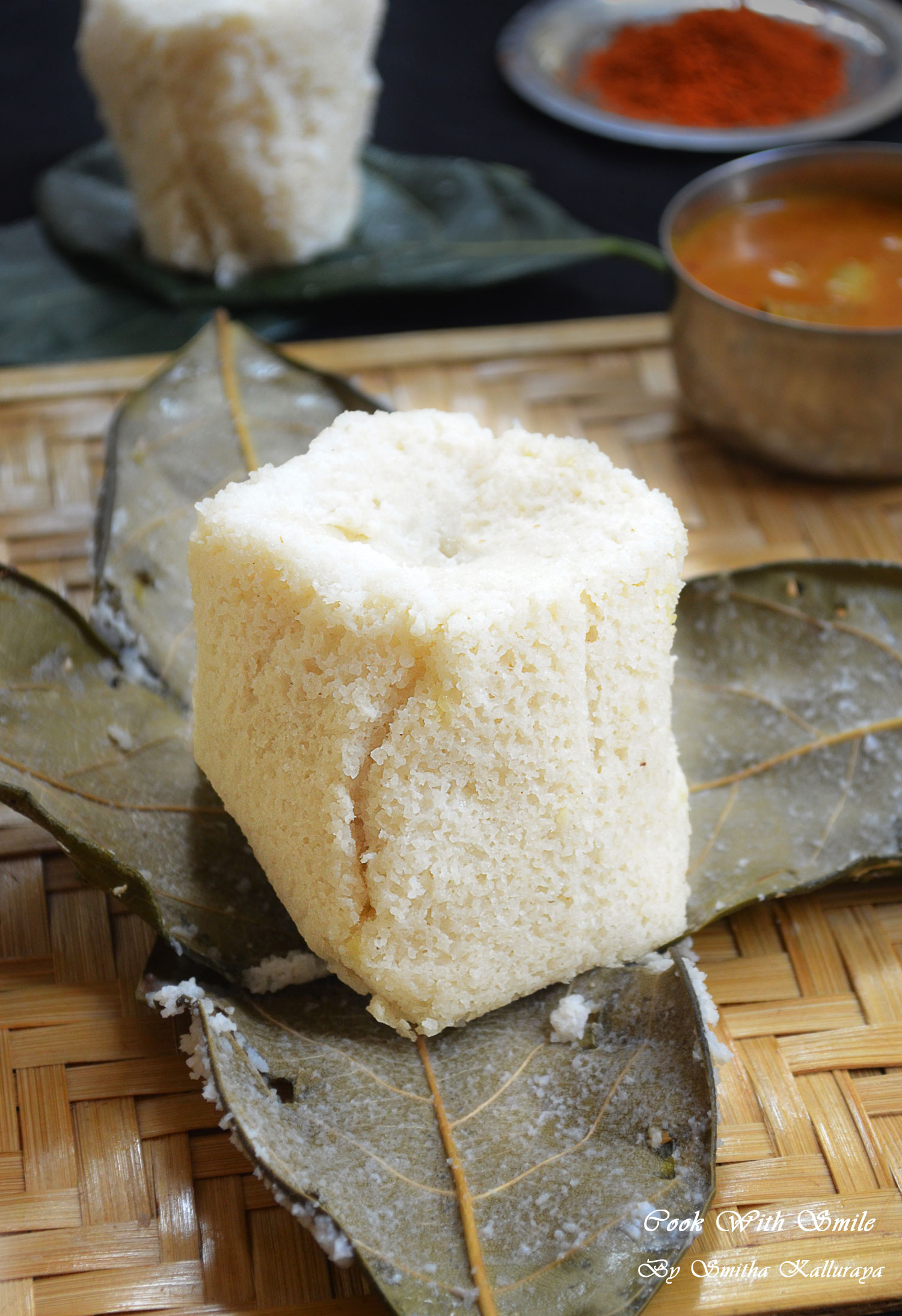 As guessed right .. this is a traditional age old recipe passed from one generation to other by our ancestors . I am feeling happy to post it here. I am sure our next generation wouldn't be knowing at least half of our traditional recipes.This is my attempt to capture all such recipes at one place before they are lost . If not making , at least  they can see that once upon a time our ancestors used to make these dishes at home just like we see grinding stone now . Haha .. true isn't it ? In coastal Karnataka one can find different type of kadubu like Oli kadubu , moode kadubu , manjal kadubu , Pelakayida kadubu etc .. based on the type of leaf they are wrapped in .Now  a days we get kotte kadubu in few restaurants in Bangalore but still they never taste the same as homemade .Now a days we get ready leaf moulds ( kotte ) too .. which saves lot of time . Its actually an art and test of patience to make these moulds out of Jackfruit leaf ( Kotte ) .. but the end result is worth it .Do give a try to know what i mean .. here you go …
You can also check Jackfruit kadubu , thatte idli etc …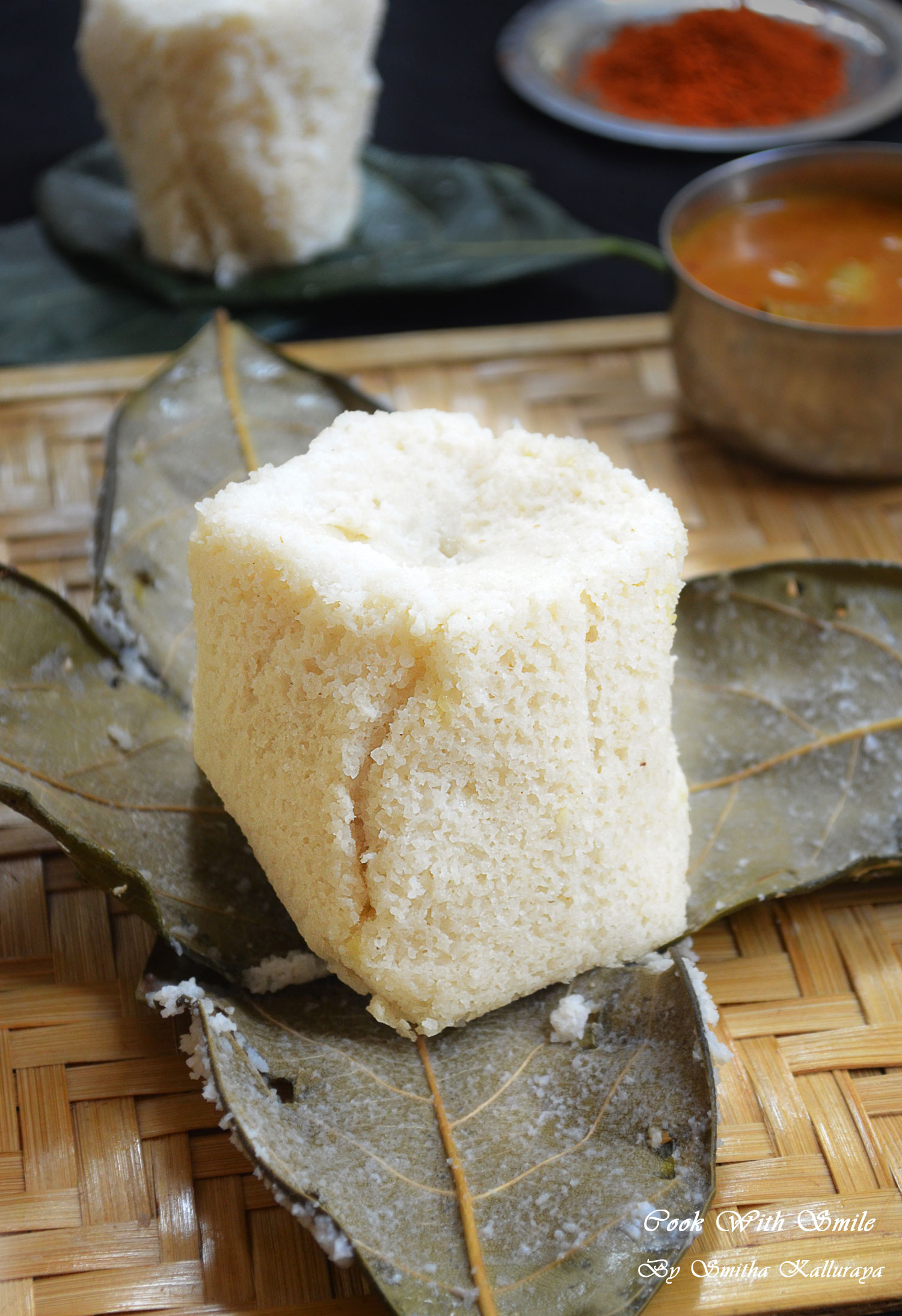 KOTTE KADUBU RECIPE / KADUBU IDLI RECIPE -COASTAL KARNATAKA SPECIAL
Ingredients
1

cup

Black Gram /split Urad Dal

2

cup

Idli Rava / Rice Rava

Salt to taste

few

jackfruit leaves

few

coconut tree leaf sticks

( toprick jackfruit leaves and make cups )
Instructions
To make kadubu batter
Soak urad dal with sufficient amount of water for around 2 hours .Drain the water from the soaked dal and transfer it into a grinder / mixer . Add little drained water kept aside and grind urad dal to a smooth paste . Add drained water in steps and continue grinding urad dal until it froths up and increases in quantity.

Wash the idli rava and drain out all the water; Add rava to the urad batter and grind for another 3-4 mins until it blends well with the batter .

Transfer the ground batter to a big vessel , add salt , mix well and keep aside for fermentation . let it ferment for 10-12 hours .

In the morning , you will see that idli batter would have raised and fermented well . Kadubu batter is ready .
how to make kotte / jackfruit leafs Cup
Pick semi tender big jackfruit leaves . If its too dry , the leaves will break while folding and pricking .Hence pick only semi tender ones . Wash it nicely , wipe it and keep aside .

Take 4 equal jackfruit leaves.Hold and pin 2 leaves together with the help of the coconut leaf sticks as shown in pic .

Place another 2 leaves on the pinned leaves such that all the tips are facing each other (ref pic )

Pin all the leaves together .

Now bend 2 leaves upwards , fold them in "L" shape and pin them together along the edges till the tip of the leaves .

Similarly take the 3rd leaf , fold and pin together along the edges till the tip of the leaves .

Repeat the same with the 4th leaf too .

Our kotte or jackfruit leaf cups / moulds are ready . Ensure that they are properly pricked along the edges and there are no holes .. else the batter will spill out when we pour inside the kotte . Keep aside kotte till they are ready to use
Time to make kotte Kadubu
Mix the batter slightly. if required add water but take care that it should not be too thin . Meanwhile prepare a steamer

Pour the batter in the prepared kotte .cover with a lid and steam the idlis.

In case you feel making kotte is too time consuming but want to enjoy the fragrance of jackfruit leaves in the kadubu .. you can just place 4 leaves inside a tumbler and do kadubu. If you don't have jackfruit leaves .. you can still do kadubu by just filling the batter into a greased tumbler

Place the filled kotte inside a steamer / pressure cooker ( don't use weight) . Take care that the kotte kadubu stays upright while steaming .Steam cook for 20-25 mins on a medium flame till they are cooked . When a tooth [rick is pricked .. it should come out clean .

Take out the kotte kadubu from the steamer and allow to cool for 4-5 mins . Slowly remove the sticks and peel out the leaf .

Serve hot kotte kadubu along with chutney / sambar / majjige huli etc
Notes
Don't make batter too thin . else it will spill out while filling the leafy moulds .
While pouring the batter into kotte ,  fill it only up to 3/4th .... kadubu will rise further while it cooks.