Today's post is one of my all time favorites which i have been relishing since childhood till date.The deep red color of the dish itself is very tempting. Yes i'm speaking about " Kokum Rasam " . Call it a rasam and empty it with a bowl of steaming hot rice or name it a drink and just gulp gulp gulp….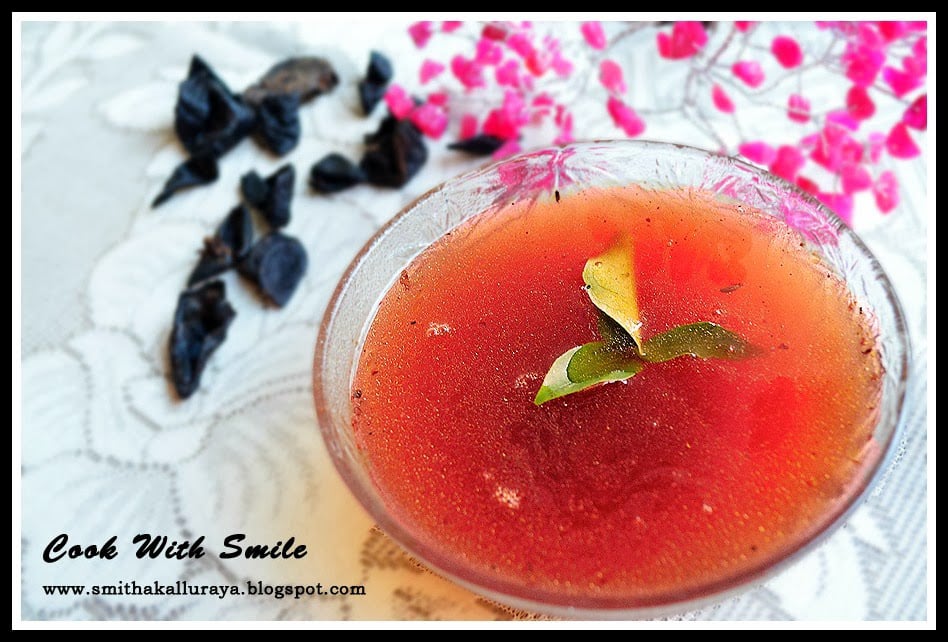 I have got very fond memories of these kokum. During my childhood days every summer i would visit my aunt whose backyard was full of cashew,kokum ,mango,coconut n guava trees. And every morning, on the pretext of helping uncle in gardening, me and my cousins would attack the kokum n mango tree. There used be tons and tons of mango and kokum just hanging there and waiting to be picked.I was more interested in fresh kokum as mangoes i could get even my place.Fresh kokums with salt .. Aahh its heaven…Oh how i miss it..
Wondering what kokum is ??Kokum is basically a deep purple fruit grown widely in konkan region of India.Fresh fruits are available in vast only during summer,but they can be preserved through sun drying and used when fresh kokums are not available.The preserved form of kokum are easily available in Indian stores in the form of dried kokum fruit rinds and concentrated kokum syrup.They are mostly used in few Konkani,Maharashtrian,Gujarati and South Indian cuisine.They impart a sweetish-tangy taste to the food and are a healthy replacement to tamarind due to its high anti oxidant properties .
Kokum fruit has been a part of Ayurvedic medicine for ages. Kokum juice is very popular during scorching summer months as it has a refreshing and cooling effect on the body and shields the body against dehydration and sunstroke. Kokum juice are also used to relieve gastric problems like acidity,constipation, indigestion,appetite stimulant etc.Its also. Kokum juice with little jaggery consumed early morning in empty stomach  a very good medicine for giddiness associated with "pitta" and B.P.You can see more here..
Here's the simple recipe for the little sour,little spicy, a little sweet, tasty and healthy kokum rasam..Try it, i assure ul be bowled right after the first sip..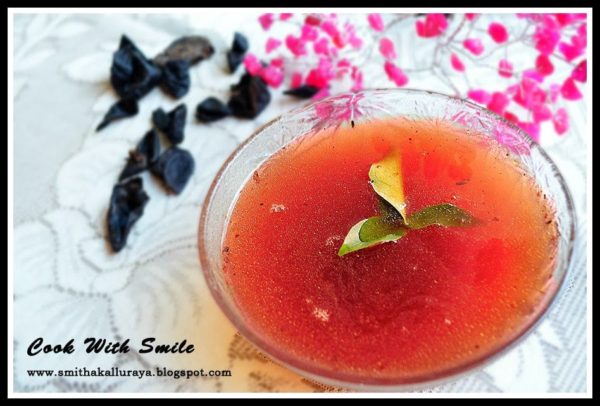 | | |
| --- | --- |
| | |
In a vessel, soak dry kokum peices in hot water for about 30 minutes. After 30 mins, squeeze the kokum pcs a bit. That will impart juice from the kokum pieces.If using kokum syrup skip this step .Directly dilute kokum syrup in water.

Later add more water ( say abt 500 ml), salt,jaggery and green chilli to the kokum water mixture.( don't discard the kokum pcs )

Keep the vessel on flame and let it boil.Check the taste at this stage and tune as per ur preference.ie add more water,salt,jaggery etc.

When the mixture starts boiling,add jeera and pepper powder and allow it to boil for another 2-3 mins.Switch off the flame.

Prepare tempering. In a small kadai, add oil. When its hot add mustard seeds,jeera.When they splutter add curry leaves.Immediately pour the tempering on rasam.

Mix well and serve hot rasam with hot rice and papad or relish as such like a soup or drink.
Few people add chopped coriander leaves / (chopped onion / garlic / hing ) to the tempering.I like simple flavour of kokum.Less the better..
Its stays fresh for a couple of days in fridge. And with each boil, the taste enhances..
You can add this to buttermilk and relish kokum flavored buttermilk. Do try that too. They taste yum and aids digestion.
If you want you can omit green chilli and just add pepper powder.And instead of salt you can use black salt .That makes it super healthy.